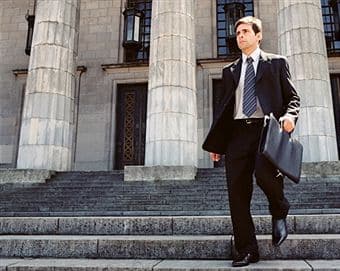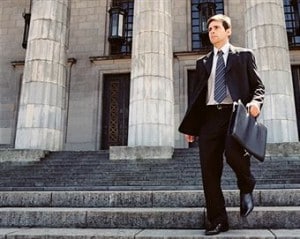 In the first part of this 2 part series, the Eagle Mat Blog will explore the importance of installing commercial floor mats in the outdoor areas of a facility.  Outdoor entry areas must have commercial strength matting for a few reasons.  First, these areas are exposed to the elements; rain, snow, and debris accumulation can transform these areas into dangerous obstacle courses to traverse.  Second, commercial or "industrial" strength mats are more capable of withstanding the damaging combination of heavy foot traffic and harsh weather.
Outdoor Entry Areas
Unlike residential door mats, commercial floor mats are made of a variety of incredibly resilient materials that are designed to keep their shape and functionality over time.  One such material is polypropylene.  Polypropylene is the material that gives Waterhog floor mats their tough, weather proof, and "crush resistant" texture.  For more information on this material and the floor mats that are made of it, please visit our article titled An Introduction to Polypropylene.
Rubber scraper mats make for excellent outdoor mats as well.  Like polypropylene, scraper mats are made of commercial grade rubber that is resilient, weatherproof, and long-lasting.  What's more, rubber scraper mats feature unique horizontal "slats" on the surface that squeegee dirt, moisture, and debris from the undersoles of shoes.  This prevents water, mud, and other dirt from being tracked into the facility, especially in rainy climates.
Rubber scraper ECO mats are likewise an excellent choice for use just outside the entry of your facility.  These mats are just as resilient and capable as ordinary rubber mats, and they are made of 100% recycled commercial rubber.  Choosing an eco-friendly mat like this helps to reduce carbon emissions, promotes sustainability, and spreads recycling awareness.
Outdoor Areas and Stairs
Of course, outdoor areas are usually more complex than simple flat surfaces.  Many entryways have a set of stairs leading up to the facility's doors.  In addition, those facilities with stairs usually also have a wheelchair ramp to promote accessibility for persons with disabilities.  These structures benefit greatly from the installation of the following:
Rubber and Vinyl Stair Risers:  Risers are pieces of aluminum, vinyl, or rubber that are applied to the vertical "rise" between the steps of a staircase.  Risers do not offer as much of a safety benefit as stair treads, however many facilities coordinate stair risers with their treads to give their staircase a customized look.  Such applications can be used to make the entire entryway look well coordinated and professional throughout the harsh weather months of fall, winter, and spring.
Loading Docks and Safety
Though not frequented by visitors, loading docks are nevertheless in continual use by employees and must be analyzed for safety.  Anti Slip Grit Tape is the best way to increase safety in these areas.  These adhesive strips have a coarse "grit" textured surface that increases friction and grip on otherwise smooth and slippery surfaces.  Grit strips are weatherproof and may be applied in parallel rows down the length of a loading dock, ramp, or even along the rungs of a step ladder.
Followup:  Mat Placement in Lobbies and Service Areas
Join the Eagle Mat Blog next week for another installment of our Mat Placement series.  On Monday, we will examine how to best use carpet, rubber, and vinyl mats in interior landscapes.  This will include an overview of entrance mats, logo mats, and recessed mat applications.  Until then, have a great weekend!
Eagle Mat and Floor Products welcomes readers to browse a full collection of commercial floor mat and lobby safety products online! Businesses may contact Eagle Mat online or call our Customer Service line at 1-877-333-1018 with sales inquiries.