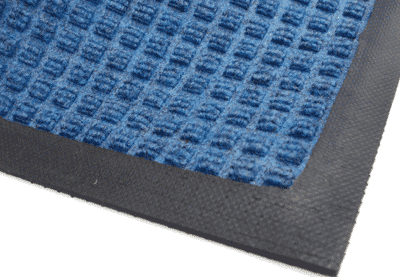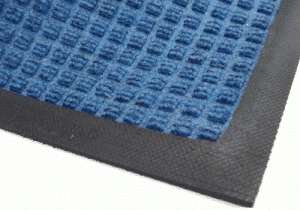 Just what is a thermoplastic polymer?  Aside from sounding like a futuristic chemical compound from a 1970s science fiction film, a "thermoplastic polymer" is a plastic chemical compound that typically takes a liquid shape when heated.  Then, the material forms a hard and glassy state when cooled.  This "shape-shifting" ability makes thermoplastic polymers ideal for creating a range of different products.  One specific thermoplastic polymer, polypropylene, is particularly effective in making commercial floor mats that businesses love for their resiliency and functionality.
Polypropylene is used to make everything from stationary to carpet.  The latter is widely available on Eaglemat.com, seen mostly in our collection of indoor/outdoor Waterhog floor mats.  The demand for this highly versatile material has sky-rocketed in recent years; an estimated 50 tons of polypropylene are produced each year, producing a $65 billion market for the material.
Polypropylene and Entrance Mats
So, why does polypropylene make an ideal material for entrance mats?  In short, polypropylene provides three basic benefits that make the material ideal for use in producing industrial strength matting:  resiliency, functionality, and aesthetic appeal.
First, polypropylene is resilient.  A tough material, polypropylene can take hours of abuse from heavy foot traffic without losing its upright texture.  This is important because mats that lose their texture become less capable of cleaning over time.
Next, polypropylene is functional.  This material's high degree of resiliency also makes it highly effective when wet or dry.  This gives businesses the flexibility to place polypropylene mats indoors, outdoors, or both, depending on individual needs.  The material is weatherproof, so mats are not ruined if they get caught in the rain.  What's more, polypropylene is capable of withstanding harsh temperature swings, making these mats an outdoor favorite among stores in the Northeast United States that operate during snowy winter months.
Finally, polypropelyne is rare in its ability to be extremely tough and resilient yet aesthetically pleasing at which to look.  These mats have the appearance of a thick carpet mat and are available in dozens of different vibrant colors, yet they are incredibly tough and durable.  No other commercial floor mat provides such a well-rounded combination of style and functionality.
Top Polypropylene Products
We carry a variety of fine polypropylene products right here on Eaglemat.com!  As described above, polypropylene floor mats are a favorite among commercial businesses because they are incredible durable, versatile, and aesthetically pleasing.  The following selection is no exception, with each product being a long favorite among our clients and customers:
Waterhog Classic:  As the name suggests, this polypropylene mat is an elegant classic!  The waffle-pattern style of the Waterhog became well known with this model, so much in fact that this raised "nub" design is now the signature look of the Waterhog floor mat.
Waterhog Fashion:  The Waterhog Fashion is a contemporary version of the original Classic model, ideal for commercial spaces with vibrant color schemes and decor.  The Fashion features the very same waffle-pattern surface as the Classic but also comes with the option of a matching color border.  Like the Classic, the firm texture of the Waterhog Fashion's surface is capable of scrubbing thick dirt and grime from shoes.  The surface nubs are spaced just as they are in the Classic model, likewise providing adequate space for dirt and debris to fall well below the surface of the mat.
Waterhog Masterpiece:  The Waterhog Masterpiece is a new spin on the Classic model, featuring a unique herringbone design on the surface.  The horizontal slats of the Masterpiece are firm and resilient, being made of polypropylene as well, and are highly effective in cleaning the undersoles of shoes.  The horizontal slats also funnel dirt and debris well below the surface of the mat, though they appear to be closer together than the "nubs" of the Classic and Fashion.
Contact Eagle Mat for More Information
Eagle Mat invites readers to call toll free 1-877-333-1018 to learn more about resilient polypropylene floor mats!