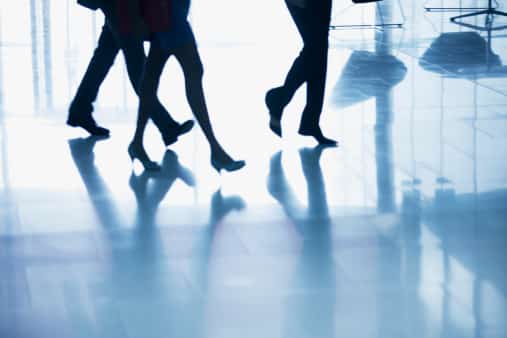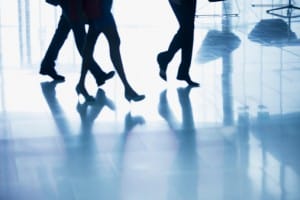 An 'Entrance System' contains the incoming dirt, moisture, and debris that crowds of visitors inevitably carry into commercial buildings.  These systems vary depending on the location; Carpet-topped entrance mats are usually used in buildings that experience a low-to-medium degree of daily traffic, while recessed mats and tiles are popular in larger spaces that experience a greater degree of daily visitors.  Recessed grill systems are the most extreme 'Entrance Systems,' used most often in facilities that experience a high degree of traffic for prolonged periods of time.
How does one create an Entrance System?  It is easier than you may think, and it may begin with an examination of 3 basic elements:  Exterior environment, visitor flow, and aesthetic needs.
Step 1: Examining the Exterior Environment
First, property owners and facility managers must account for the unique conditions created by the natural world outside.  The most noteworthy condition to account for is weather.  For example, facilities located in severe climate zones must invest in resilient Entrance Systems that can withstand frigid temperatures, ice formation, and snow accumulation.  Facilities in tropical climates must likewise consider how excessive rain and heavy winds affect their unique matting needs.
Rubber Scraper Mats are a high quality option that offers a well-rounded set of benefits suitable for most facilities.  Scraper mats are skid-resistant and have a "squeegee" effect on shoes that aggressively pulls both dirt and moisture from their under soles.
Indoor/outdoor polypropylene mats are a second option that likewise offers a high degree of weather resistance and cleaning ability.  Waterhog mats are an industry leader when it comes to polypropylene mats, offering a variety of shapes, colors, and surface patterns that complement most exterior building facades.
Step 2:  Accounting for Visitor Flow
A floor mat is only as good as its ability to contain dirt, moisture, and debris.  Accounting for visitor flow and choosing appropriate indoor entrance mats is an important second step in creating an effective Entrance System.  Failing to appropriately match indoor mats with visitor flow can cause mats to become saturated and disheveled quickly.  This may create dangerous entryway conditions, increase airborne pollutants, and inevitably increase maintenance costs.
Commercial locations that experience a low-to-medium flow of traffic may consider investing in carpet-topped entrance mats.  Most of these mats are backed with commercial grade Nitrile rubber to prevent excessive slippage.  What's more, carpet mats are available in a variety of vivid colors that allow a facility to create a truly unique look.
Recessed floor mats are an ideal choice for facilities that experience a medium-to-heavy degree of visitor traffic each day.  These mats lie flush with the surface of the floor and present a minimal tripping hazard to guests.  Also available are carpet, rubber, and vinyl tiles that may be used to cover large indoor entryway areas.
Recessed grills are the go-to option for transportation hubs, major commercial outlets, and other facilities that experience a constant flow of heavy traffic each day.  Recessed grills like the Pedimat, Peditred, and Pedigrid system are comprised of horizontal aluminum slats and carpet inserts that contain up to 50-60% of incoming debris.  For more information on these heavy-duty systems, readers may explore this Eagle Mat case study.
Step 3: It's All About Aesthetics!
Finally, one must consider the aesthetic role of their Entrance System.  Entrance Systems should complement current interior designs and color schemes so as to uphold continuity.  Alternatively, Entrance Systems may be used to add colors, textured, and other design elements in entryways that lack patterns or vibrant colors.  The use of customized logo mats is perhaps the most popular example of how Entrance Systems can be used to add pizazz and a professional "touch" to otherwise bland entryways.
For more ideas on how to how to use customized logo mats in your Entrance System, please visit our article on Communicating with Logo Mats.