Using Entrance Mats That Promote Safety While Enhancing Brand Image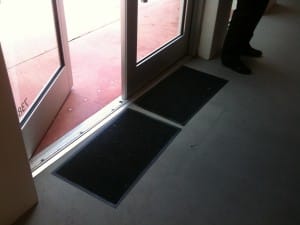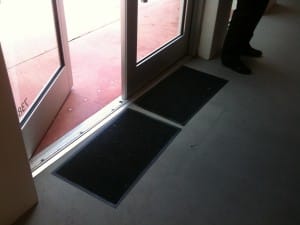 There's nothing worse than a pair of worn out, dangerously disheveled entrance mats inside the doorway of a high-end electronics boutique.  Unfortunately, a recent trip to Miami Beach landed a member of the Eagle Mat Blog's editorial team face-to-face with that very worst case scenario.  Pictured at left are the entrance mats just inside a storefront on Lincoln Road, one of Miami Beach's premier attractions for tourists and residents alike.
Lincoln Road is said by many to be the "Rodeo Drive of Miami," a place where people watching and lazy-day 2-hour lunches mesh seamlessly. With a barrage of multi-million dollar condos on the West side, the Ritz Carlton South Beach on the East (ocean front) side, and a myriad of high-end designer boutiques lined all along the street in between, one is left with a very simple question:  Why on earth are these entrance mats being used by a boutique on Lincoln Road?
What follows is our editorial team's assessment of this problematic scenario, along with a few "quick fixes" aimed at improving safety while augmenting brand image.
1. Mats do not appropriately accommodate for traffic.
The first glaring issue with the entrance mats being used by this retail outlet is that they are inappropriate given the steady streams of visitors this store undoubtedly receives.  The store is located on Lincoln Road in Miami Beach, Florida.  The busy closed-off street is trafficked by pedestrians only—not vehicles—and lined with high-end boutiques considered by many to be a premier destination for Miami tourists and residents alike.  Further, it has been publicized that this particular chain of electronics outlets saw more visitors in 2010 than all Disney theme parks, combined.
Solution:  A recessed grill system would be preferable for such a highly-trafficked retail outlet.  These systems are available in a variety of heavy duty materials like steel and aluminum, and they are installed to lie flush within the floor to present a virtually nonexistent tripping hazard.
2. Mats are not sufficient, given the tropical climate.
As we mentioned, this retail outlet is located in Miami, Florida.  Miami has a naturally tropical climate that is known for abrupt and intense afternoon rainstorms in spring and summer months, often times followed by clear skies and sunshine.  The concrete located just outside the entryway is smooth, painted, and sealed.  This makes the surface incredibly slippery following rain spells, particularly those of the tropical nature that may be especially difficult for the storefront to control.
Solution:  First, the retail outlet may wish to place a set of Rubber Scraper Mats just outside the entry to better manage rain water accumulation while giving visitors a place to "squeegee" their shoes dry.  This may not be feasible given the high-profile nature of the shopping district, however, and the store may not be permitted to place mats outside the entryway.  In this scenario, a recessed grill system is a superb option for the same reasons mentioned above.  Alternatively, the use of larger Waterhog Mats would suffice given their ability to retain up to a gallon or more of water, depending on size.
3. Quality of matting does not mesh well with the store's "brand image."
One does not need to know the name of the brand that calls this storefront home.  The more important things to understand are:
Location:  This boutique is located along an exclusively high-end shopping district in Miami Beach.
Product Offerings: The electronics company sells high-tech gadgets like MP3 players, razor-thin laptops, tablets, and desktop computers.
Brand Image The company is wildly popular among "early-adopters" who actually look forward to lining up outside storefronts across the nation on days when new products are released.
Interior Décor:  The inside of each retail location is pure white and lined with sharp edges, titanium accents, and crisp fixtures to promote a very post-modern look.
With this in mind, it is safe to say the mats pictured above do nothing to promote the brand's image.  One may even venture to say the mats look cheap and thoughtless in contrast, ultimately detracting from the brand's image and product offerings.
Solution:  Custom Logo Matting is a great way to augment pre-existing décor with a product that is printed with digital precision, vibrant coloring, and available in surface textures that absorbs a great deal of incoming moisture and debris.
In closing, it is important to view commercial matting products as more than a simple "must-have" for liability purposes.  Variables like visitor in/out flow, external environmental climate, and brand image need attentive consideration when choosing commercial floor mats for your place of business.
Floor Mat Consultation by Eagle Mat
Eagle Mat and Floor Products invites readers to call customer services for a complementary floor mat and safety product consultation at 1-877-333-1018.