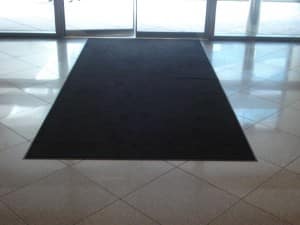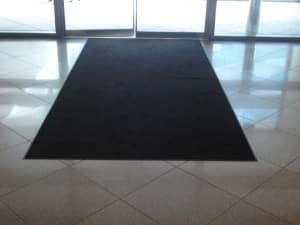 While commercial-grade floor mats are a common installation in offices, industrial workplaces, retail shops and restaurants, they also keep multi-family rental properties free of debris, moisture and bacteria. Practicing safety standards in an apartment complex is key, especially because tenants are long-term clients who expect a degree of security and management concern throughout their lease terms.
Landlords can be held liable to tenants' injuries following a slip and fall accident.[1] Tenants must show that there was negligence that may have caused slippery conditions leading to the accident. Typically, negligence depends on specific lease terms (i.e. who is responsible for maintaining the property, as is often debated in single-family rentals) and whether or not the landlord was able to foresee a potential accident onsite.
While weather is an unpreventable circumstance, puddles on lobby floors or stairs can be a bit more worrisome. Regardless of who is legally responsible and the outcome of the complaint, you might find yourself in a lawsuit you're not equipped to handle. To avoid the headache altogether and minimize potential injuries for your tenants, check out the following rental property floor mats.
Entrance Mats
Landlords and rental property owners have a wide variety of entrance mats and runners to choose from, but a top choice is the Berber Supreme Entrance Mat, which feature a high-low surface pattern distinct to the Berber brand. Not only does this mat protect floors from dirt and moisture against incoming shoe traffic, it features a rubber backing that increases durability and keeps the mat from slipping on tile or wood floors. Berber entrance mats are commonly used in hotels and Class A buildings, making it a prime pick for rental properties as well.
Pool and Gym Mats
Offering amenities in your rental property is a great way to attract lessees in a competitive market, but gyms and pools have to undergo rigorous safety procedures before they can open to the public. In residential property fitness centers, gym mats are key to keeping tenants from harm. Everlast gym mats help minimize shock for health fanatics in your rental property. In addition, Everlast offers interlocking tile mats that fit together seamlessly to completely cover gym floor space.
Indoor and outdoor pools present a huge liability for slip and fall accidents. Slick tiles around the pool area are almost always wet, creating a major concern for swimmers and loungers. Vinyl Sponge Pool Mats control the moisture around the pool area by trapping it beneath the surface. These mats are also comfortable to walk on with bare feet, so residents won't be dissuaded from using the pool area due to the floor surface.
Rubber Stair Treads
Rubber stair treads are typically installed in heavy-traffic areas that are prone to moisture and debris. In high-rise rental properties, staircases are often concrete, slick and prone to puddles from rain or accidents from tenants walking their pets. Most stairway-related injuries occur along the vertical stepping area of the staircase, so installing rubber stair treads can help create a more stable step.
To create the most optimal, safe space for your rental property tenants, call Eagle Mat at (877) 333-1018. Our customer support team can assist you in finding products that fit the dimensions of your entryway, stairwells or amenity spaces.
[1] http://www.nolo.com/legal-encyclopedia/landlord-liability-slip-fall-injuries.html