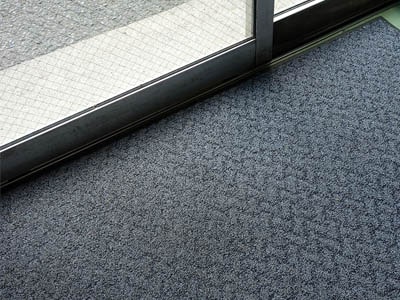 Heavy duty commercial floor mats are any of the commercial mats that are designed for high-traffic areas. "Heavy duty" just means the mats are designed and manufactured for hard use in commercial applications.
These mats come in different categories, so let's take a look at some of them.
These are all heavy duty and all designed for a lot of foot traffic. The Premier Carpet Mats are the best quality around for commercial applications and they come in 48 different colors.
The Berber Supreme Entrance Mat, for example, is designed for use inside or outside and is manufactured with ultraviolet stabilizers to resist fading or deterioration from the sun.
Waterhog Mats would also be considered heavy duty. They are specifically designed for heavy foot traffic that is wet. If you live where there is heavy rainfall or snowfall, these mats are ideal. Waterhog mats have a "water-dam" border edge that traps water—over a gallon per square yard–inside the mat.
Salon mats are also "heavy duty" but they are designed to withstand a slightly different definition of hard use. For example, the Textured Gloss Salon Mat is resistant to tears from sharp objects like scissors that fall from the stylists' hands or spiked heels of clients, who stand on the mats shifting their weight while looking in the mirror. These mats are also treated to have anti-static electricity properties, so hair doesn't stick to them and cleaning and maintenance is easier.
We recently talked about recessed mats and grates [needs internal link] that are for very high-traffic areas. These mats are intended as a first line to remove water and dirt from shoes before the pedestrian arrives onto the entrance mat. They're very "heavy duty" but for a specific application.
Chair mats are the mats that go under a chair with wheel casters. They are definitely heavy duty because they are designed to withstand a lifetime of someone sitting in a chair on them and rolling back and forth.
So, when you talk about "heavy duty commercial mats", that could mean any one of several different types of mats. Some mats are designed to withstand assault from chemicals. Other mats are designed to repel sharp objects. And entrance mats are designed for heavy foot traffic and to aggressively remove dirt and water from the bottoms of shoes—but they're all heavy duty with respect to their intended commercial use.
Do you have other questions? It's easy to contact us, and we're happy to help you. You can always call us at (877) 333-1018 or email us at sales@eaglemat.com for more information or if you aren't sure what you need.