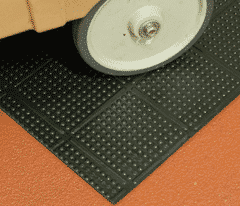 The best industrial kitchen floor mats are any high-quality commercial kitchen mats that increase traction and make the kitchen safer. There are different types of kitchen mats for different applications, so there's no one right answer to this question.
Commercial kitchen floors take a beating. They typically have high traffic, lots of wet and slippery areas, people standing on their feet all day in one location, greasy spills, hot foods and liquids falling on them, and even chemical assault from acidic substances such as vinegar or wine.
Let's take a look at some different kitchen mats for different areas of the kitchen.
The plain-Jane standard kitchen mat is a great multi-purpose mat. It has big holes for drainage of liquids and debris which keeps the standing platform safer and with good traction. This mat could go in front of a sink where someone is washing produce or washing dishes.
It comes in black or red. The black is grease resistant, and the red one is grease-proof. So, you could even have this mat in front of the stove or cooktop.
The Restaurant Supreme Kitchen Mat is an interlocking tile design allowing you to connect several mats together. That's a great feature if you want a long string of mats or if you're putting mats down in an area with an unusual or awkward layout.
The same applies to the Restaurant Premier Kitchen Mat Tile. That is if you need to cover areas where the standard sizes don't fit quite right, tiles give you more freedom in the layout.
The Soft Floor Drainage Kitchen Mat is the anti-fatigue answer to kitchen mats. If you have kitchen areas where someone is standing all day in one place, this type of mat not only offers great drainage, but also is more comfortable to stand on. Anti-fatigue mats are easier on the joints and make employees feel better. And this mat also has anti-static properties.
Comfort Zone Kitchen Mats have another added benefit to the anti-fatigue qualities. These mats come in black and red, and the red ones are manufactured with MicroStop anti-microbial technology. These MicroStop mats inhibit the growth of bacteria and fungi.
So, the best industrial kitchen floor mats are the ones that suit your particular commercial kitchen needs. What suits your kitchen depends on the layout of the kitchen, how your kitchen is used, and where and for how long people stand in one place. Definitely talk to us if we can help you to pick out the best kitchen mats for your business.
Do you have other questions? It's easy to contact us, and we're happy to help you. You can always call us at (877) 333-1018 or email us at sales@eaglemat.com for more information or if you aren't sure what you need.