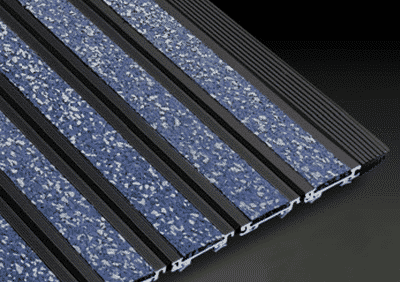 Recessed mats and grates are terrific for one thing: very heavy foot traffic. This is why you frequently see them at airports or hotels.
What many people don't realize is that they don't have to be installed with a recessed area in the ground—something that's a headache if you didn't think of it when the floor was originally installed.
They can also be installed above ground. This is called a surface mount.
There are three commonly known types of recessed mats with grates: Pedimat, Peditred, and Pedigrid.
How do you know if you need recessed mats and grates?
It depends on several variables including how much foot traffic you have and how much water is routinely being brought into the commercial space (like analyzing how much rainfall or snowfall you have).
Water and dirt are channeled through the recessed mat into a grate where it can be removed later.
There are some organizations, such as the government of Maine, that require recessed mats and grates in some circumstances, such as schools. The reason is that recessed mats and grates absorb more water than other types of mats.
And as we often explain in our blog, the more water that gets trapped at the door, the safer the establishment is.
If you don't have the amount of traffic that warrants recessed mats and grates, then the first line of protection would be any high-quality, commercial entrance mat.
If you need a little more water removal than an entrance mat, but not quite enough to merit a recessed mat and grate, the next line of defense is a rubber scraper mat positioned outside. This would mean that customers arriving on foot walk across the scraper mat first, then the entrance mat second.
It's important to analyze your traffic because if you have too much traffic or too much water for just an entrance mat, the entrance mat can get wet and dirty too fast to be practical.
The last thing you want is an overloaded entrance mat that moves around or is so saturated with dirt and water that it is creating a hazard instead of increasing overall safety.
This is why we recommend that you have several sets of mats: so you can remove, clean, and dry a wet and dirty mat as soon as it needs attention, and you have another clean mat to put down, when you take a mat up for cleaning.
If you're wondering whether you need recessed mats and grates, talk to us about it. We're going to ask you about your foot traffic and your type of business. We want your business premises to be the safest place around, and we can help you do that with the addition of the correct types of mats for your application.
Do you have other questions? It's easy to contact us, and we're happy to help you. You can always call us at (877) 333-1018 or email us at sales@eaglemat.com for more information or if you aren't sure what you need.