Spring is here! Though much of the mid-Atlantic and Northeastern United States is still experiencing colder-than-normal temperatures, it's time for facility managers and property owners to begin planning for milder temperatures, thawing ice, and rain. With the right products and a forward-thinking plan for safety, facilities can quickly prepare for the looming changes in customer flow, weather, and seasonal risk.
In this Spring Safety Spotlight, our editors focus on a very important safety product for small to medium sized businesses: Rubber scraper mats. These commercial-grade rubber floor mats are ideal for outdoor use during the Spring, performing both tough cleaning and drying functions. Eco rubber scraper mats are also available, giving LEED projects and Green businesses a sustainable outdoor matting option.
What is a Scraper Mat?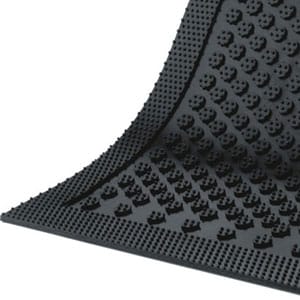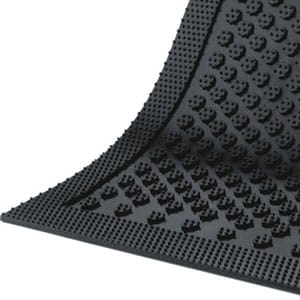 A scraper mat (pictured left) is a specific type of safety mat that is usually made with a highly resilient commercial-grade rubber, like Nitrile. The top surface of the mat features a unique design that performs two very important functions. First, the thick vertical cleats aggressively dig in to the under soles of shoes to dislodge tough dirt, gravel, mud, and other debris. This is where the mat gets its nickname scraper; the surface texture is particularly good at cleaning soles with deep grooves, like those in winter shoes and construction boots.
In addition to aggressively scraping away debris, these mats are highly effective in squeegeeing shoes dry. This ability decreases as the surface of the mat becomes increasingly wet, especially on rainy days. To ensure maximum safety, property owners are wise to pair scraper mats with a carpet-surface wiper mat just inside the entryway. These mats are available in custom widths and lengths, making it easy for property owners to maximize safety with a large wiper mat tailored to meet specific needs.
Scraper Mat Benefits
Why choose a scraper mat over another type of commercial entrance mat? There are a variety of products out there, and scraper mats are not always the best fit for the job. When considering your needs, review this list of additional benefits that rubber scraper mats offer:
More Grip, Less Slip: In addition to cleaning and containing debris, scraper mats improve friction and traction between shoes and smooth surfaces.
Great for areas of high traffic, both indoors and outdoors.
Contains liquid and oil debris within the surface of the mat (below the grooves), protecting surrounding floor surface.
-Or, drainage holes are available for use outdoors, behind bars, and in other areas where liquid accumulation is common.
Rubber scraper mats are antimicrobial mats, meaning they have a special chemical treatment that protects against the spread of micro-organisms and odor.
Rubber scraper mats are easy to clean: Simply hose-down with an ordinary garden hose and sweep with firmly bristled push broom. Note: Do not clean scraper mats with pressure washer, as this may lead to chipping, scraping, or other damage.
Buy Scraper Mats Online
Visit Eaglemat.com to shop commercial floor mats. For additional information on rubber scraper mats, or for assistance in selecting the perfect mat for your facility, call Eagle Mat Client Services at 1-877-333-1018.
Free Shipping and Guaranteed Low Prices.