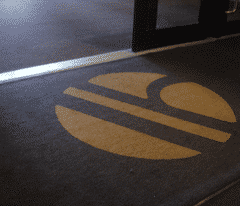 Entrance floor mats offer a variety of benefits to commercial businesses.  From accident prevention to décor, entrance mats help organizations to achieve goals in risk reduction, branding, interior design, and more.  Arguably, there is no lobby installation that offers greater functionality than these heavy-duty floor mats.  Today, entrance mats have come in various materials that each offers a different host of benefits.  Eagle Mat and Floor products have assembled this easy-to-follow guide to help property owners and business managers learn more about the materials with which these flooring essentials are made.
1) Carpet Entrance Mats
Carpet entrance mats are perhaps the most popular and widely used of commercial floor mats.  These mats may feature a nylon yarn that is both high-twisted and heat-set for added durability.  The yarn of these mats is often dyed, giving businesses a range of color possibilities.
These mats can be used as unmarked entrance floor mats, or they may be ordered as logo mats that feature a custom logo or slogan on the surface.  Advanced digital printing technology has made it easier than ever for businesses to create floor mats with intricate designs and vibrant colors.  This makes logo mats a common addition to the entryways of hotels, restaurants, and other businesses with a prominent brand or logo.
2) Aluminum Entrance Grills
Metal or aluminum grills are a special type of entrance matting system that is commonly referred to as recessed grills.  These robust floor coverings are comprised of alternating carpet and aluminum slats, or inserts, that lie flush with the floor.  Recessed grills are made with heavy traffic in mind, and their construction includes an underlying compartment where falling dirt, debris, and moisture may accumulate.  This underlying compartment exists in the hollow space, or recess, in which the grill system is placed.
3) Rubber Mats
Rubber entrance mats are ideal for locations that experience moderate to heavy traffic.  Moreover, they are particularly effective in environments that experience a lot of rain or snow.  Rubber scraper mats are made of 100% commercial grade Nitrile rubber that squeegees shoe bottoms to remove moisture and other debris.  Rubber entrance mats are highly resilient to cold weather, heavy rains, snow, ice, and more in virtue of their 100% Nitrile construction.
4) Polypropylene Mats
Polypropylene entrance mats offer a superb combination of performance and beauty.  Polypropylene is more resilient than ordinary carpet, making these types of entrance mats perfect for outdoor use.  Waterhog floor mats are among the most well-known products made of polypropylene.  Waterhog mats have skyrocketed to become one of the matting industries' best-known products, thanks largely to their polypropylene construction.  To learn more about this interesting material, please visit our Blog article on Waterhog mats and polypropylene.
5) Eco-Friendly Mats
Entrance mats are also available in a range of different environmentally friendly materials.  These floor mats are designed with sustainability in mind, using only recyclable materials that are also effective in the dirt, moisture, and debris containment.  Recessed Cocoa mats are a superb example of an environmentally friendly floor mat that is both popular and highly effective.  Cocoa mats feature a surface made of the coarse fibers of the coconut husk.  These all-natural mats are a favorite among earth-honoring businesses and LEED projects alike!
Another popular eco-friendly line of floor mats includes the Waterhog ECO series.  These entrance mats are made of 100% post-consumer plastic bottles and may help projects earn LEED credits.
Eagle Mat:  Flooring Experts Since 1980
Eagle Mat and Floor Products proudly celebrates over 30 years of superior service and expertise in the Maryland, Washington D.C., and Northern Virginia areas.  Since 1980, Eagle Mat has helped businesses of nearly every vertical find matting and carpeting solutions that add safety and aesthetic beauty to their facilities.
We are here to help. Contact Eagle Mat on the Web or call customer service toll free at 1-877-333-1018 to speak with a representative today!