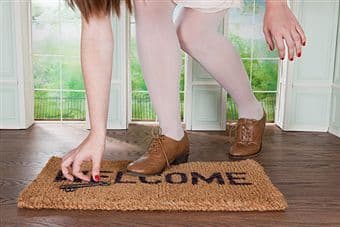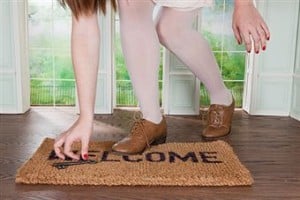 Residential door mats have a wide range of uses including safety and prevention of bacteria accumulation. It is tempting to think that matting products are simply floor coverings that contain dirt.  Although it is true that matting products are designed to absorb dust and dirt, they also serve an aesthetic function.  Mats may add to the beauty of both interior and exterior of a home, serving as eye-catching complements to preexisting décor.
The rising popularity of logo floor mats in commercial locations illustrates this idea quite well.  Commercial retail locations experience a volume of visitors throughout the day and must take measures to safeguard against accidental slip-and-fall accidents.  As reported by Liberty Mutual, at-work slip and fall accidents were more common than traffic accidents between 1998 and 2008.  This has rallied businesses to rethink safety and retrofit their facilities with matting products that control both dirt and moisture accumulation.  Businesses have exhibited a preference for vibrantly colored logo mats over plain matting products, however, demonstrating an understanding that mats can be used for more than just risk management.
Just like business professionals, most individuals would like their home to appear attractive and well put together. Though floor mats seem to be simple objects that almost hide from sight, one will be surprised in the ways in which mats can augment color schemes and truly pull a room together.  Here are the different types of entrance mats you can use at home and some quick suggestions on what material you should pick:
1.     Indoor Mats
Buying indoor entrance mats will need a lot of thinking. You have to consider the color and style of your interiors. You have to make sure that the entrance mat blends in the room and will not look out of place.
There is a good variety of indoor entrance mats in the market today. Some look very classy and these are great additions to place inside your home or office. You can find the shape, design, style and material you fancy.
You must make sure that the entrance mats you will buy are durable because you will wash them regularly. Since entrance mats absorb dust and dirt particles throughout the day, you cannot just leave them dirty for weeks.  Dirty mats are ineffective and may become hazardous.
Ribbed entrance mats made of polypropylene or those that have heavy-duty vinyl backing are great for indoors because it will avoid accidental slipping.
2.     Outdoor Mats
While indoor entrance mats have to be based on its looks, outdoor entrance mats need to be sturdy and more useful.
Pick vinyl loop or vinyl mesh materials because these materials are great in absorbing water, dust, dirt and snow. These entrance mats will hold the particles inside the mat firmly and will prevent them from entering the home.
Entrance mats made from nitrile rubber are also good for outdoor use. These types of entrance mats can even absorb grease/oil and soil particles from under the shoes.
3.     Multipurpose Indoor/Outdoor Mats
Dual fiber constructed entrance mats will help in eliminating coarse and heavy soil for the soles of the shoes. These entrance mats are effective in trapping dust and dirt too. Moisture can be absorbed and kept inside until the mat is cleaned.
Cocoa entrance mats are popular today. They are made of extremely durable coconut fibers and vinyl backing. What's more, cocoa mats are incredibly friendly to the environment.  Expect to see more of these unique matting products as the Green Building trend gains momentum!
Eagle Mat and Floor Products proudly celebrates 30+ years of commercial matting and facilities management products.  Readers are invited to contact our sales team at 1-877-333-1018 to learn more about at-home door mats and other residential flooring products!