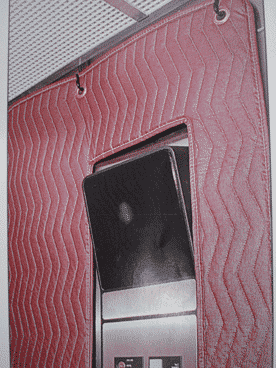 You may ask what is an elevator pad? Well, elevator pads are used by both commercial and residential facilities to protect the ornate and often expensive interiors of elevator cabs.
When used in commercial buildings, elevator protection pads usually insulate the cabs of freight elevators to protect valuable cargo during transportation. Due to the high frequency of movement and weight in these elevators, the walls and panels of elevators must be protected. 
Eagle Mat and Floor Products is an authority of elevator walls pads and has been measuring, installing, and selling these goods for the last 30 years.
At Eagle Mat and Floor Products, we are all about safety and elevator pads provide the perfect protection! Whether it's protecting passengers, freight, or the inside of the elevator cab, elevator pads provide heavy-duty padding that prevents damage during operation. Eagle Mat and Floor Products is proud to present our line of Elevator Wall Pads. 
We supply to all major manufacturers including Otis, Schindler, ThyssenKrupp, and Kone, just to name a few. Eagle Mat offers the best in elevator padding and protection in a wide variety of material and colors!
Measuring and installing these pads doesn't have to be troublesome. Simply follow our Elevator Wall Pad Measurement Guide and you will have all the measurements necessary to request a price quote and eventually order your Elevator Wall Pads. We made it simple!
A Custom Embroidered Logo (maximum size of 13" x 19″) is available to be sewn onto your Elevator Wall Pads! The logo is embroidered (in different color threads) onto a patch, and that patch, which is essentially the background of the logo, is sewn onto the pads. The patch is made out of the same fabric and color as the Elevator Wall Pads that you order.
Additionally, you may follow our step-by-step instructions, directly on our website link here to gather the measurements needed. For further assistance, one can call our expert staff toll free: (877) 333-1018. With the expertise of Eagle Mat, you're always in reliable hands.
Do you have other questions? It's easy to contact us, and we're happy to help you. You can always call us at (877) 333-1018 or email us for more information or if you aren't sure what you need.