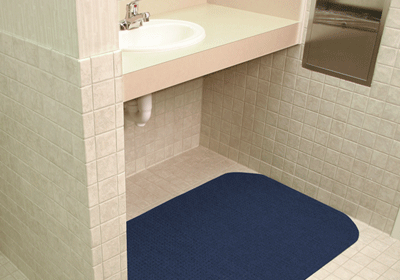 Bathroom mats can help safeguard patrons and staff from slipping and falling in commercial facilities of all kinds. Our collection of mats keeps restroom facilities clean, safe, and odor-free. Investing in restroom mats shows patrons that you value their comfort, health, and safety in the most intimate of spaces.
Water accumulation is common in restroom facilities and may cause dangerous conditions, Eagle Mats non-slip matting also controls water accumulation. Urinal and restroom matting control such accumulation to ensure that a visitor does not suffer from the carelessness of another.
Interested in learning more about our Bathroom Mat Collection?
Micro Guard
Micro Guard matting is treated with AEGIS Microbe Shield technology to guard against degradation from microorganisms, reducing odor emissions in entryways and other high traffic areas. Antimicrobial system is permanently bonded to each carpet fiber, providing longevity and effective lifetime control of odors.
Sink Bathroom Mat
Sink Bathroom Mats are an excellent way to keep a wet environment safe from unnecessary slips and falls. Sink Bathroom Mats provide a safe standing area for patrons washing and drying their hands, using the mirror, and applying make-up. This mat is able to be laundered repeatedly and is treated with antimicrobial agents to help control odor-causing bacteria.
Toilet Bathroom Mat
Toilet Mats create a pleasant restroom environment, keeping facilities clean, sanitary, and free of odor. Factor in heavy use during peak hours and the possibility of equipment leakage, and the probability of developing wet restroom floors becomes high. Say hello to your new best friend: The fully washable, bacteria killing Toilet Mat!
Controlling facility mess also reduces the need for ongoing maintenance. Our restroom matting products are designed with hygiene in mind. They keep facilities clean by absorbing water and killing bacteria. 
Eagle Mat and Floor Products proudly represents the finest in commercial mats and floor covering products in the marketplace.  Our company is actively involved in the sale and rental of matting, safety flooring, and other products that help businesses deliver the highest quality of service to clients, patrons, and employees alike.