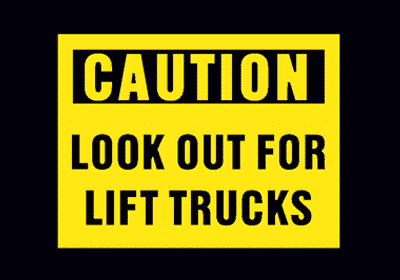 Welcome mats, safety mats, and other customized message mats offer a superb combination of eye-catching décor and functionality for commercial businesses!
These are the perfect complement to entryways, welcoming visitors with a greeting tailored to your liking. This high-quality matting is well suited for homes, offices, hotels, and lobbies. We invite you to check out our collection of pre-designed message mats.
Safety 1st
Sturdy and slip-resistant, our Safety 1st Pre-Designed Message Mat features a full 100% Nitrile rubber construction that effectively scrapes dirt and moisture from shoe-bottoms!  Message is thermo-bonded to mat surface to create a durable and resilient image that is guaranteed not to fade away or scratch with normal use.
Safety First: Report All Accidents No Matter How Slight to Your Supervisor
Ideal for construction sites, work areas, factories, and a wide range of other commercial applications!  This Safety First Pre-Designed Message Mat effectively cleans while urging employees to communicate with their supervisors.  Message guaranteed not to scratch or fade away due to regular wear and tear.
Be Careful: Safety is Everybody's Job
Display this vivid call for safety in entryways, work areas, and other commercial settings! Constructed entirely of 100% Nitrile rubber, our Be Careful safety mats are sturdy, skid-resistant, and highly effective in removing tough dirt and grime. Under normal wear and tear, the image on this product is guaranteed not to scratch or fade away!
Caution: Look Out for Lift Trucks
This Pre-Designed Message Mat is perfect for use in work areas where construction vehicles, lift trucks, and other pieces of industrial machinery are active. The Caution Pre-Designed Message Mat is guaranteed not to fade or scratch under normal use!
Caution: Entering Safe Workplace Do Your Part
Caution Workplace Pre-Designed Message Mats are made of 100% Nitrile rubber to reduce slippage, sliding, and breakage.  Our Caution Mats are guaranteed not to fade or scratch under normal usage, making this product ideal for a variety of applications in high traffic areas!
Each design is sewn into the face of the mat, creating an extremely durable and long-lasting product. Additionally, they are skid and slide proof, thanks to their 100% Nitrile rubber backing.
These are best applied to areas where extra traction is needed, and our collection of safety matting includes models that display vivid messages to passersby. Prevent accidental slip-and-falls with 100% Nitrile rubber mats that feature long lasting messages that are thermo-bonded into the face of the mat.
Do you have other questions? It's easy to contact us, and we're happy to help you. You can always call us at (877) 333-1018 or email us for more information or if you aren't sure what you need.