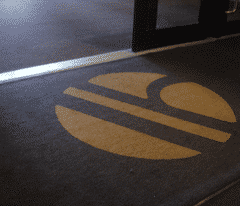 The entrance to your place of business doesn't have to be blah with off-the-rack mats. There are some excellent reasons to have custom mats at your entry. Let us go over with you why you should consider custom entry mats.
Marketing. If you have a

Logo Floor Mat

at your entrance, you are immediately making a statement to the public. A Logo Floor Mat can have artwork, a logo, a tagline or anything you want in unlimited colors. Logo mats can play a role in an overall marketing or branding plan. Why not say something about your company when you quickly have the opportunity? This entrance statement can set the tone for your incoming business or clients.
Directionality. With Logo Floor Mats, we can even print something like arrows. Is it confusing when someone walks in your front door? Do you want to streamline the traffic? Then consider mats that offer direction. Remember, we can print anything on a mat.
Interior Design. Even if you aren't preoccupied with branding and marketing, entry mats can still play a part in the overall interior design. Our

Premier Carpet Mats

come in 48 different colors. If you give some consideration to the "look" you want, your office can look much more put together, which makes a statement, too.
Good Business. Don't forget that you need mats for safety anyway. So, why not make the most of your mats and have your mats serve several purposes at the same time.
Mood. Set the mood for the people who walk in. You could have a mat that offers a pop of color to lift spirits or even a cheerful saying to inspire your visitors (or buyers).
We're heading into the winter or wet season in the US. Before you stock up on your mats, give some thought to getting custom ones. Custom entry mats can make a bold statement at your entrance, and they don't necessarily cost more than regular mats. You can also get mats for any shape or size needed to perfectly fit the space.
Do you have other questions? It's easy to contact us, and we're happy to help you. You can always call us at (877) 333-1018 or email us at sales@eaglemat.com for more information or if you aren't sure what you need.