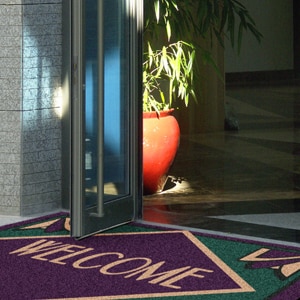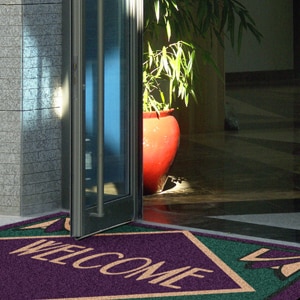 There are lots of things to think about when selecting outdoor floor mats. Some of the considerations are listed below:
Do they clean the soles of shoes, so people aren't tracking dirt and water everywhere?
Do they stay where you put them and not slide around?
Are they attractive to the eye?
Do they lie and stay flat?

Having great outdoor mats protects the rest of your commercial space by preventing the transfer of dirt and debris to indoor areas. If they clean the bottoms of shoes, then they minimize the potential for falls from slippery water or mud tracked through the rest of your building. A neat and attractive mat says something about how you care about your space. An outdoor floor mat is the first thing people see as they approach the premises.
As we mentioned in an earlier article, the statistics for slips and falls are staggering. Use appropriate outdoor floor mats to protect your business from these types of avoidable accidents.
Floor mats not only protect the inside from dirt and water and protect individuals from falling but they can also be a marketing measure. You can even put a logo on certain types of floor mats.
Logo Mats
We can personalize several different types of mats with your logo and 3-D textural finishes. What's classier than an outdoor mat that represents your business and protects the customer?
Berber Mats
Berber mats are a great solution because they can be used inside or outside. They're made with a dense long-lasting material that is specially treated to resist ultraviolet damage from the sun. They also have a beveled edge which makes them particularly safe for foot traffic, and they come in more colors than can be listed here.
Vinyl Sponge Mats
The "spaghetti" mats are designed for pool areas. These mats wick water away from the surface of the mat and keep the water underneath and away from feet and shoes.
Waterhog Mats
We have several different types of Waterhog Mats. These are designed for controlling and channeling away water and dirt. This kind comes in 26 colors and is made from recycled polypropylene fibers that are crush-proof.
Whatever you choose, good quality outdoor mats are a big plus for your business. Do you have other questions? Are you not sure what you need? It's easy to contact us, and we're happy to help you. You can always call us at (877) 333-1018 or email us at sales@eaglemat.com for more information.