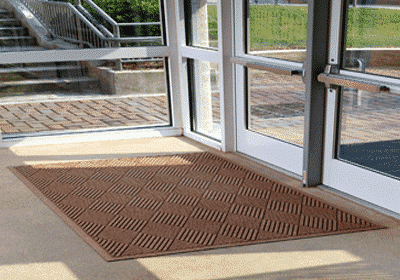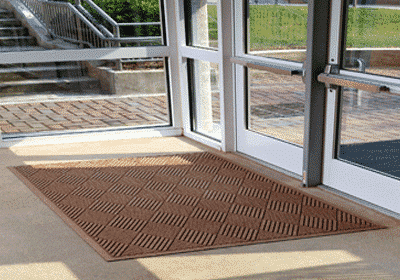 Did you know that, according to the National Safety Council, slips, trips, and falls are the third leading cause of unintentional death in the US, accounting for 32K deaths in 2013? Did you know that, according to WHO, falls are the second leading cause of death worldwide?
One look at those sobering statistics, and it's time to get some good floor mats for wet and slippery areas. Eagle Mats has all kinds of wet area floor mats. Remember, a young woman in stiletto heels can fall just as easily as an elderly man with mobility issues.
Wet area floor mats have several purposes. They not only give the pedestrian a better grip on the ground by increasing friction, but they wipe the feet of the pedestrian preventing water and debris from being tracked all through your establishment—which creates problems in other areas.
Bear in mind that floor mats need to be in good condition and flat on the floor. A crumpled fraying mat creates a fall hazard all by itself. So, mats need to be replaced regularly.
Waterhog Mats
These waterhog mats are great for channeling water and debris away from the walking surface. They come in all colors, shapes, and sizes, and there are even some made from recycled plastic for the most environmentally conscious among us.
Entrance Mats
If you require something a little fancier, have a look at these entrance mats. These carpet mats come in two thicknesses of plush carpeting and all the colors of the rainbow.
Eco-friendly Mats
Don't worry: Eagle Mat also has many specific eco-friendly choices including mats made with old tires and mats made with recycled PVC.
Slips, trips, and falls cost businesses over $60 billion per year. Don't be a statistic when most of these falls are preventable. Put some mats down at the entrance of your business, and have a few more standing by for use in wet and slippery areas.
Do you have other questions? Are you not sure what you need? It's easy to contact us, and we're happy to help you. You can always call us at (877) 333-1018 or email us at sales@eaglemat.com for more information.