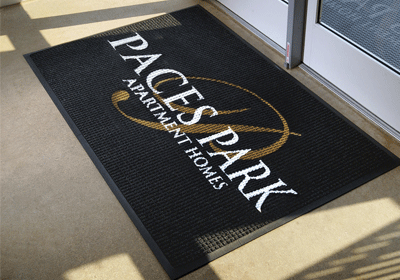 Technological advances have led to vast improvements in materials in recent years.  Not only are more durable materials available in large quantities, they are also more affordable.   One of the recent developments in synthetic materials is polypropylene also known.
Polypropylene is a thermostatic polymer.  It is used in production of items that require both flexibility and toughness.   Products made out of polypropylene are bonded thermally. When drawn into fibers, the synthetic material is used in the production of commercial-grade floor mats. Constructing floor mats with polypropylene has many benefits. To learn more, please visit our article on comparing polypropylene mats to carpet mats.
Because of the high-grade quality of the material, polypropylene mats are more resistant to fatigue than most fibers.  They resist most chemicals, and they are considered to be one of the more rugged materials available.  They are excellent weatherproof floor mats because they resist wear from mildew, perspiration, rot, and weather. Polypropylene floor mats are easy to clean by either vacuuming or washing them.  Because the colors are added during the creation of the fibers, the colors won't fade.
How Do Polypropylene Mats Compare with Others?
The vast array of materials in the market today can make selecting suitable floor mats an overwhelming experience.  Do polypropylene mats match your business and home needs?  How do other material compare?
Polyester Mats
Pros:    Polyester mats are popular and affordable alternatives to polypropylene mats.  These floor mats are available in a variety of colors and textures.  They are non-allergenic.  They shed moisture and resist mildew.  These days, polyester floor mats are made out of recycled plastic soda bottles.  It can be used for both indoor and outdoor use.
Cons:   Floor mats made out of polyester are susceptible to pilling.  They shed.  Oil-based stains are difficult to remove.   They are not as durable as other materials, and would require replacement often.
Rubber Floor Mats
Pros:    Rubber mats are durable.  They are made of non-porous material.  They can last for a lot time.  They are also don't conduct electricity.  These floor mats provide cushion and are non-slippery.  They are perfect for industrial and manufacturing workstations.
Cons:   While there is very little working against rubber floor mats, they can be bit heavy and thick.  They are not necessarily aesthetically appropriate for all occasions.   These floor mats are mostly designed for work and gym areas.
Vinyl Matting Products
Pros:    Vinyl is a popular material to use for floor mats.  It is inexpensive.  It is easy to clean.  Regular soap and water can remove stains easily, restoring the floor mat to its original luster.  Only the most acerbic of chemicals can damage vinyl.  For its price, vinyl makes good floor mats.
Cons:   Despite vinyl's overall appeal, it does not make a good weatherproof mat.  It cannot be exposed to sunlight for very long because it has a tendency to fade.  The evidence of wear and tear of vinyl floor mats is visible after a few years, meaning replacements are often necessary.  It is better for indoor use.
More: Visit our Rubber vs. Vinyl Floor Mats article to learn more about the difference between rubber and vinyl safety matting.
Wool Carpet
Pros:    Undeniably, wool is aesthetically the best material.  Its gorgeous colors and luxurious textures make it an easy choice.  Wool is an insulator and can help retain heat in rooms.  The material also absorbs sound.  A wool carpet not only prevents slippage, its artistic value makes these prized items.
Cons:   While wool carpet offer advantages synthetic floor mats do not, they can be more trouble than they are worth.  Because they hold moisture, carpet is prone to shrinking, mold, and mildew.  It has static.  Unlike floor mats, carpet can have bald spots due to wear.  It is also necessary for carpet to be moth-proofed.  Due to its high maintenance nature, carpet is not ideal for regular, all-weather use.
Polypropylene: The Ultimate Weatherproof Matting Material
After comparing each material, polypropylene proves to be best material for weatherproof mats.  It can be used for indoor and outdoor.  Polypropylene floor mats require the most minimal maintenance in comparison to others.   Because of the multipurpose quality of this fiber and its affordability, it is one of the better choices for floor mat material.
Call Eagle Mat today to learn more about commercial-grade safety matting for your place of business. Customer service agents are available at 1-877-333-1018.