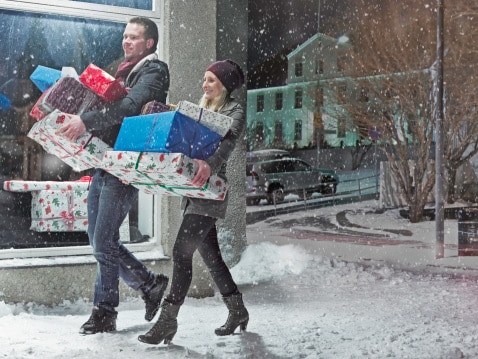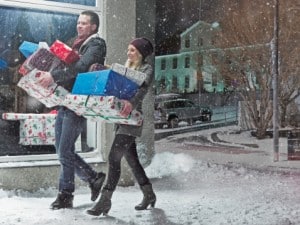 The season for tinsel, snow, and shopping has finally come!  With the heavy-duty shopping season already among us, businesses must cope with the increasing foot traffic, wet conditions, and pressures to keep the spirits bright in their establishments.  While we revel in the joyous spirits, let us pause for a moment and think of safety.
In order for the holidays to pass as pain-free as possible, businesses must prioritize safety.  Precautions will not only reduce the concern for accidents and liability, but it will also enhance the overall customer experience.   Brand image is enhanced, customer experience is bettered, and employee satisfaction increases when businesses make a proactive effort to improve safety during busy shopping seasons.
Holiday Safety Tips for Stores
While the holidays bring good cheer, it is important to take precautions.  Floor mats, wet umbrella bag stands, proper signage, and a prepared staff can make all the difference during busy winter months.  Below are a few tips that will help prepare businesses in preventing accidents and other liability concerns.
1. Anticipate weather variance.  Winter months have erratic weather patterns.  It is better to be ready for all possibilities than be unprepared when the time comes.
2. Establish a plan of action (POA), especially for winter and the holiday season.   Safety protocols aide in efficiency and managing situations during busy hours.
3. Educate employees on safety protocols.  Informing the staff with guidelines will give them confidence to act and prepare them for any eventuality.
4. Empower employees to act efficiently if bad weather is expected at any time of the day.  It is best to follow weather forecasts on a daily basis.  Knowing what to expect lessens panic and prompts staff to follow the proper safety protocols.
5. Install all-weather safety precautions such as floor mats for storefronts.  They will prevent slippage, trap dirt and moisture, and add polish to establishments.  Commercial floor mats can be customized according to business brand and interior color schemes.
6. Perform regular safety checks and maintenance.  Take the time to perform inspections of safety matting, stanchions, signage, and umbrella bag holders.  Inspect them for regular wear and tear and if necessary, replace them.   While these items are considered secondary to the main business infrastructure, they play a significant role in accident prevention and reflect your company's commitment to safety.   Objects for safety must carry elements of cleanliness and quality.  Customers will feel at ease knowing that a business is very particular to such details.
7. Aside from ensuring safety in entryways, also be mindful of the dangers of stairways and escalators.  Floor mats should be prepared in the event of bad weather at the top and bottom of escalators.  As for stairs, it is best to install stair treads to prevent customers and staff from slipping.
8. In addition to investing in preliminary safety pieces such as commercial floor mats and stair treads, add more proactive items.   Signs and stanchions provide customers information, direct the flow of traffic, and manage situations more effectively and efficiently in addition to the staff involvement.  Umbrella bag holders keep wet umbrellas from pooling indoors.  They also give the impression of care for the shoppers' overall store experience.
Lastly, be aware of safety issues at all times.
During these busy months, managing safety takes a backseat to other priorities.  While the holidays can be daunting for businesses because of increase traffic and customers, it is best to remain collected and provide the best service possible.  Overall customer satisfaction can be a substantial driver towards increases in sales and revenue.  Reliable safety products, like floor mats, offer a safe and clean environment where patrons could feel secure while they are shopping.  The holidays are overwhelming enough to even worry about losing their footing after being outside during these frosty winter months.