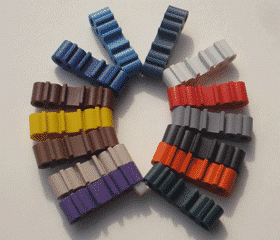 Commercial floor mats are commonly made with two very different materials:  rubber and vinyl.  Eagle Mat and Floor Products carries many floor mat products made of each of these materials.  Rubber and vinyl are both essential ingredients in durable floor mat construction, yet each material offers unique benefits in terms of durability, maintenance requirements, and overall value.  In this article, we will explore the different benefits offered by both rubber and vinyl flooring products.
There are a number of factors to weigh when deciding between rubber and vinyl commercial matting.  Prior to making a purchase, buyers must consider each of the following quality metrics:
The degree of traffic the floor space will experience
Maintenance:  How will the floor mats be cleaned?
Cost:  What is the budget for floor mats?
Rubber Floor Mats
Rubber mats are thought by many to be superior to vinyl mats.  Superiority comes with an up charge, however, as all-rubber floor mats are typically more expensive than those made of vinyl.  In many cases the up charge is worth it.  To better illustrate, let's see how rubber matting scores using the metrics from above:
Traffic:  A+
Maintenance:  A
Cost:  A-
Summary:
Rubber floor mats that are made of 100% Nitrile are built to withstand ongoing heavy traffic, extreme temperature variations, and rigorous cleaning processes.  This makes rubber mats ideal for a variety of locations, including office buildings, production facilities, schools, and other heavily trafficked areas.
In addition, rubber mats are easy to maintain.  Many rubber floor mats can be cleaned with a simple water hose.  Others may be vacuumed to remove subsurface debris deposits.  Rubber mats are fully launderable as well, qualifying for Eagle Mat laundering services in select locations.
In terms of cost, rubber mats generally more expensive than those made of vinyl.  While the price increase is small in most cases, it nevertheless illustrates a drawback of investing in rubber over vinyl.  The silver lining: rubber mats are extremely durable and easy to clean, delivering prolonged value over time.
Recommended Products:
Eagle Mat carries an extensive line of high quality rubber mats in a variety of styles and color options.  Please visit our rubber matting section for a full selection of products.
Vinyl Floor Mats
Vinyl floor mats represent a cost-effective option that sacrifices little quality.  To illustrate, let's see how Vinyl Mats rank using our quality metrics:
Traffic:  A-
Maintenance:  A-
Cost:  A+
Summary:
Vinyl entrance mats are better suited in locations that will experience light-to-medium levels of traffic.  Vinyl does not have the same steadfast durability as rubber, and it may crack or curl if abused for prolonged periods of time.
Vinyl is not as easily cleaned as rubber, however.  Vinyl mats may be cleaned by water hose or vacuum, but they cannot be laundered or pressure washed.  Laundering or pressure washing vinyl mats may cause excessive cracking, curling, or flaking.
The best metric for vinyl mats is price.  Vinyl mats are lower in cost than those made of rubber, providing a cost-effective matting option ideal for tight budgets.  Vinyl mats also out-score rubber mats in two areas not covered by the above metrics:  chemical resistivity and color options.  Vinyl mats are highly resistant to chemical absorption and may be produced in a greater variety of color options than rubber mats.
Recommended Products:
Eagle Mat offers a variety of floor mats that feature either vinyl backing or 100% vinyl construction.  Our favorites include Vinyl Link Logo Mat, TNT Carpet Entrance Mat, the Chevron Entrance Mat, and finally the Ribbed Entrance Mat.
Floor Mats on Twitter?
An unlikely combination, but a good pair nonetheless!  Be sure to Follow Eaglemat on Twitter for the latest news on Green building, eco-friendly product reviews, LEED certification, and more!