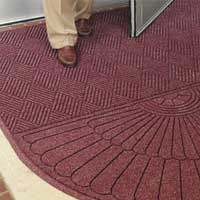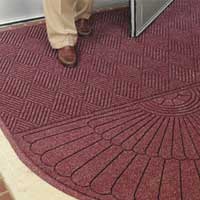 It's that time of year again in North America. Snow. Sleet. Rain. Ice. Fog. Wet floors in your commercial space are not only dangerous because it's a major contributor to slips, trips, and falls, but all that water and salt can damage your floors. Remember, customers and employees are not only bringing water and dirt into your space, but they are also tracking in the salt from streets and sidewalks. The water and debris tracked through your premises looks awful and creates a lot of extra work for your employees to clean up.
Let's take a brief look at some of our products that are especially for the winter season.
Do you have a Wet Umbrella Stand? You should. Do you want your customers walking around with a dripping umbrella? Do you want them using their umbrella like a walking stick and marking up your floors? We have stands in both Satin Chrome and Satin Brass finishes. The complete set comes with a finished, framed sign, and plastic umbrella bags.
Yes, even if you don't need the stand, we have plastic wet umbrella bags available too.
These are terrific mats designed to scrape the soles of shoes removing water and debris. The mat traps the water and debris and prevents it from being tracked around. These are a breeze to clean, too, because they're rubber. They can be washed and rinsed with soap and water, and even in a commercial washer as long as it's in cold water.
And don't forget about the Waterhog Mats, the industry leader for removing water and debris. These come in tons of colors and have a distinctive nubby surface. They are very attractive in any setting.
Master Trapper
There's another terrific water-loving mat called the Master Trapper, and it's even in our new Clearance Section. Also, keep in mind that discounts are sometimes available with bulk orders.
Don't let the bad weather get you down. Just be prepared, and have the right products for this wet slippery time of year.
Everyone at Eagle Mat & Floor Products wishes you Happy Holidays and healthy happy New Year.
The possibilities are endless. Whatever you choose, let us help you select the best commercial mats and flooring for your commercial space. Do you have other questions? Are you not sure what you need? It's easy to contact us, and we're happy to help you. You can always call us at (877) 333-1018 or email us at sales@eaglemat.com for more information.