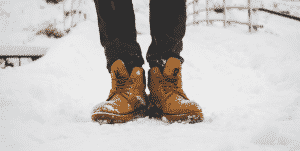 If you're sitting with a cup of hot chocolate in front of a roaring fire, then snow falling outside can feel magical. But if your commercial space has a lot of foot traffic, then that same snow falling can be nightmarish for your business
Slips, trips, and falls are a major problem for businesses. In 2015, there were 800 workplace fatalities in the United States from slips, trips, or falls.
But here's a good solution for you and your business. Eagle Mat provides special mats designed for the watery, slushy mess that winter brings. Let's take a brief look at some of them.
These mats are the industry leader for scraping dirty shoe soles with a signature nubby surface, yet trapping 1.5 gallons of water per square yard. This particular style comes in 19 different colors to suit every decorating situation!
This style of waterhog mat has a slightly different basket-weave design and comes in six colors. It is certified "high traction" by the National Floor Safety Institute.
This is the mat for the environmentally-conscious among us. It's made of 100% recycled materials, but performs just as well as the others and comes in eight colors. If you're concerned about your carbon footprint, this is the mat for you.
Waterhog Eco Grand Premier Half Oval
Here's a terrific mat for inside or outside a doorway. This smart-looking half oval will give you a royal touch. It comes in 26 colors and is made of 100% recycled PET drinking bottles.
In closing, let's review why you need Waterhog mats to trap the water coming from the shoes of your employees and customers:
Water on your floors is a terrible slip hazard for everyone.
Water on your floors can damage the floors.
Water and debris tracked through your premises are unsightly. It's a morale-killer for employees and bad for business.
Water and debris tracked through your premises require extra work for employees to clean it up.
Nice clean mats are a great boost to business. Both employees and customers will feel safer and happier.
Everyone at Eagle Mat & Floor Products wishes you Happy Holidays and healthy happy New Year.
The possibilities are endless. Whatever you choose, let us help you select the best commercial mats and flooring for your commercial space. Do you have other questions? Are you not sure what you need? It's easy to contact us, and we're happy to help you. You can always call us at (877) 333-1018 or email us at sales@eaglemat.com for more information.