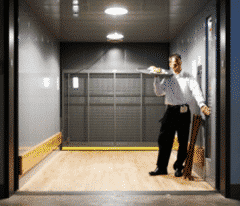 Elevator pads are all about safety in residential, commercial and freight elevators. Here is why they are so important:
They protect the costly finishes of the elevator.
They protect passengers.
They protect valuable cargo.
It's much cheaper to put in elevator pads BEFORE your finishes are damaged by moving heavy and odd-shaped freight. It's much more expensive to repair the damage than it is to protect the finish in the first place. That's assuming the expensive finishes can be repaired at all. Get your elevator pads before you have a major problem.
Not only does freight risk damaging your elevator, but your elevator can damage the freight. Elevator pads prevent this from happening by offering a soft side to lean against. The pads are designed to resist impact and will offer a long-term protection against everyday dents and scratches.
We have elevator pads in different materials and several different colors. Contact us to discuss how they are fire-rated for safety.
Custom
Elevator pads are designed to fit your elevator exactly. We have a special page to help you with the measurements.
How Do I Measure for Them?
It's not difficult to measure for them. We have a special page designed to help you make the measurements. Just scroll down for the worksheet.
Hardware
Elevator pads can be installed with different types of hardware. Talk to us and we can help you pick what's best for your premises. You will choose the pads based on what type of hardware you want to use. The pad will be designed expressly for the specific hardware chosen.
The hardware is easy to install. You'll have no problems with it. And pads are easy to clean. Vinyl pads are cleaned with just a damp cloth.
Elevator pads are a useful product with a very long service life. Let us help you pick out the perfect ones for you.
Do you have other questions? It's easy to contact us, and we're happy to help you. You can always call us at (877) 333-1018 or email us at sales@eaglemat.com for more information or if you aren't sure what you need.