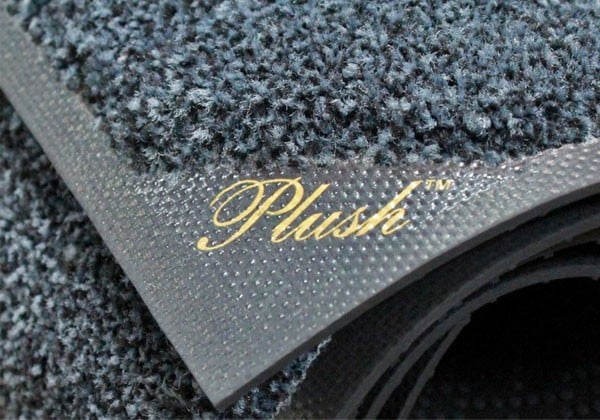 Walk-off mats are sometimes called scraper mats, but those are just synonyms for commercial entrance mats that are designed to scrape the bottoms of shoes as people walk into a commercial space.
There are several reasons you need entrance mats:
The office or commercial space looks better if people aren't tracking dirt and water throughout the building.
The office is safer with entrance mats in place because dirt, debris, and water or ice cut down on the floor's friction and contribute to slip, trip, and fall accidents. Accidents are bad for morale, bad for business, and really bad for the bottom line.
Over time, all the junk from the undersides of shoes damages the flooring.
Mats trapping dirt and water cut down on the time and work required by maintenance people to keep the floor clean.
If you don't collect dirt, debris, and water at the door, then many of the contaminants from the soles of shoes–including chemicals and pollen in addition to plain old dirt–become airborne and contribute to the air pollution in a building.
Now that we've addressed why you need these entrance or scraper or walkoff mats, let's look at the different kinds.
Carpet Mats
There are too many types to list here, but they include mats like the Plush Carpet Mats, the Berber Supreme Entrance Mats, and the nubby Waterhog Mats.
These mats above—and some others not listed here—are the industry standard for commercial entrances. They aggressively remove dirt and water from the soles of shoes, and hold onto it until the mat can be removed and cleaned.
Rubber Entrance Mats
We have several types of rubber mats. For an entrance, your best bets are the Rubber Scraper Mats with special holes for the drainage of water (think snow and ice), Rubber Pronged Mats, which are designed for exceptionally tough circumstances like rough weather and super heavy foot traffic, and the Corrugated Rubber Runner Mats that offer a bit more traction and some noise-dampening qualities for hard floors like ceramic or stone tiles.
Eco-Friendly Mats
If being eco-friendly is part of your corporate identity, don't worry—many of our mats are eco-friendly and can help move your business toward a Leadership in Energy and Environmental Design (LEED) certification.
It's important to note that mats are most effective when they're clean. And most of them need to lay flat to air dry. So, it's important to have more than one set of mats for any one location. When the mats get dirty, you need to remove them and replace them with clean ones while you are washing and drying the dirty ones.
All mats can be hosed off, but some can go in a commercial washing machine. Be sure to check the manufacturers' mat-cleaning instructions for whatever mats you choose or talk to us about it. Also, please note that we offer some different mat services including mat rentals and laundering in the Virginia, Maryland, and Washington D.C. metropolitan areas where we are based.
Do you have other questions? We have been providing sales and installation of commercial flooring products to the following market segments for over 35 years: Corporate, Education, Hospitality, Government and the commercial real estate community. It's easy to contact us, and we're happy to help. You can always call us at (301) 762-2000 or email us at sales@eaglemat.net for more information.