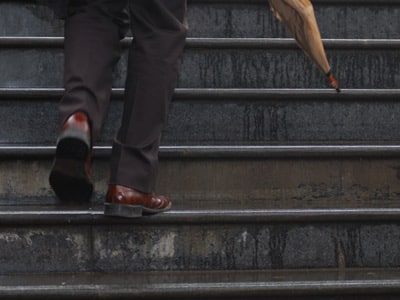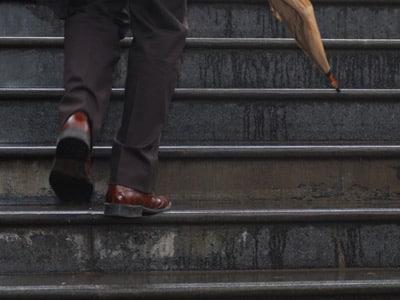 Stair treads are vital in slip and fall prevention, especially in areas that experience wetness. Whether an outdoor stairwell that is exposed to rain, or an indoor stairwell exposed to liquid accumulation, wet areas pose a serious threat that must be addressed in order to prevent serious injury to employees, customers, and guests.
Eagle Mat is home to a wide variety of stair treads and risers designed to promote traction, even in wet conditions. In the guide below, our editors review 3 primary types of stair treads available on Eaglemat.com: Rubber, Vinyl, and Aluminum.
Rubber Treads
Our collection of rubber stair treads is popular for many reasons. In addition to providing superior traction and stability, these treads are both easy to install and easy to clean. Available surface textures include the circular rubber disc, diamond pattern, and smooth surface with grit strips.
Vinyl Treads
Vinyl stair treads are another popular category of anti-slip products, offering good functionality at an economical price that is feasible for nearly any facility or small business operation. Unlike the treads mentioned above, these products are available with horizontal ribs only. In addition to horizontal ribs, grit strips are available to provide extra traction and safety.
Aluminum Treads
A third category of safety treads are those made of aluminum. Like the rubber and vinyl categories described above, these products improve both stability and traction. Unlike the products mentioned above, aluminum treads have the added benefit of providing structural reinforcement to staircases. In many instances, aluminum treads can be applied to steps that have fallen into disrepair, creating a firm step that will last longer than rubber or vinyl.
What Treads Are Best for Your Facility?
Our goal is to help property owners, facility managers, and contractors find the perfect products for their facility. For additional product information and order assistance, visitors are invited to contact Eagle Mat Customer Service at 877-333-1018.