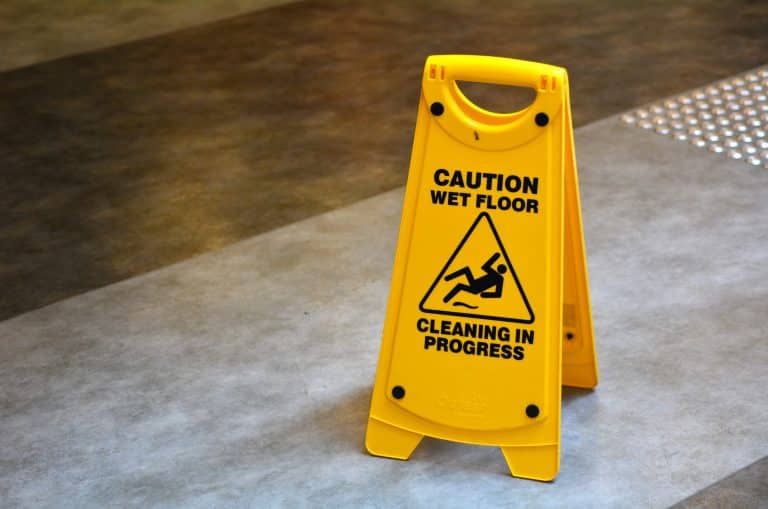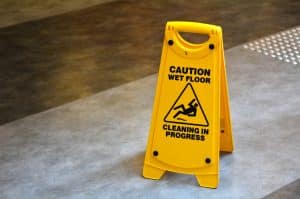 Slip and fall accidents aren't just distressing – they can be deadly. More than 31,000 Americans died in 2014 due to falling, according to the National Safety Council (NSC). In the workplace, almost 600 people died and 47,000 were injured from a fall. While most slip and fall accidents are prevented with floor safety supplies, proper footwear, regular maintenance and employee training, catastrophes can happen and must be addressed right away.
Here are the three steps employers should take immediately following a slip and fall accident:
Call for Help
Calling 9-1-1 immediately after a slip and fall accident may seem overdramatic when there aren't any recognizable injuries, but ruling out hidden wounds is crucial. If the person hit their head on the floor, for instance, they may suffer a concussion or traumatic brain injury with delayed symptoms. Concussion side effects vary but can range from headaches and neck pain to nausea and blurred vision. Only emergency respondents can accurately test for these indications and provide medical assistance accordingly. More obvious injuries, such as fracture, cuts or sprains, should also be addressed by medical professionals. Falls are the leading cause of emergency room visits in the United States.
Ask Questions and Document
Were there any witnesses nearby when the incident happened? Is the injured person coherent enough to explain the circumstances that led up to their slip and fall accident? These are critical questions for documentation and liability reasons. As a facility manager, business owner or landlord, you should file a written report on the injured party's behalf – even if they initially declare the fall was their fault. Keeping accident forms on hand can simplify this process. If you don't have access to the formal paperwork, make sure you write down the name and contact info of bystanders who can vouch for your innocence. If an employee or patron takes needless legal action, impartial spectators help protect your business from unjustified personal injury claims. Slip and fall scams are a major source of business insurance fraud, costing businesses over $40 billion per year, according to the FBI.
Take Photos
Given today's technology, most people have cameras built into their mobile devices, so taking photographs at the scene of the accident should be relatively simple. Make sure you have timestamps attached to image files so you can prove that the area was not wiped or cleaned after the accident occurred. Photos should be printed and put into a folder with the rest of the written evidence, in case you need to reference the accident and dispute liability claims.
Lastly, a serious accident in the workplace can leave your other employees shaken and scared for their own safety – and rightfully so. Hold an all-hands meeting to address the accident, deliver hazard prevention strategies and offer counseling in cases of co-worker death or critical injury. These steps help reestablish optimism and a general sense of wellbeing at work.
Beyond discussion, business owners and facility managers should take action after a slip and fall accident. Investing in commercial floor mats and other floor safety materials demonstrates management's willingness to prevent injuries and harm. Expressing your attention to safety verbally is imperative, but showing your workers that you take their health and wellness seriously has a massive impact on company culture and rapport.