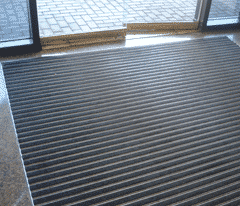 Recessed mats are a leading floor safety solution for many commercial office spaces, retail stores and apartment buildings. Like standard commercial entryway mats, recessed mats are efficient at preventing slip-and-fall accidents while preserving interior cleanliness and hygiene. Their principal advantage is a uniform, durable design crucial in high-traffic areas.
Unlike standard commercial floor mats, recessed mats can be positioned into an empty reduction in the floor, allowing the surface to sit flush with the surrounding area. This flat, low-profile design helps diminish tripping hazards due to curling edges. Property owners and facility managers who install recessed mats don't have to worry whether routine use could cause a tripping hazard. Raised edges on commercial floor mats, typically those in desperate need of replacement, are a safety threat, legal liability and financial burden. Recessed mats can also be surface-mounted, meaning they are installed within a frame on top of the existing floor.
In addition to their sleek design, recessed mats trap moisture, dirt and debris underneath the surface. This keeps bacteria from spreading to shoes and across your commercial space. Maintaining a clean entryway at your office, store or hotel improves the indoor air quality (IAQ) and ensures the health of your employees and patrons.
Recessed Mats for Every Space
Some recessed mats come with grills, which are a highly-durable and gripping surface made of metal (aluminum) and carpet inserts. The aluminum aggressively scrubs the bottom of shoes for moisture and dirt, which is then locked into the fibers of carpet bands. Grills, including the Pedimat, Peditred and Pedigrid systems, are most popular among Class A architects and tenants.
For something less complex but similarly robust, Berber Supreme recessed mats are best used in moderate traffic areas, such as mid-sized offices, schools, hospitals and hotels. Their long-lasting durability and continued support is a major benefit. Plus, they contain weatherproof UV stabilizers which eliminates fading when used outdoors. Because of their sunken design, Berber Supreme recessed mats trap dirt and moisture beneath the visible exterior.
For sustainable offices and workplaces, Waterhog Classic Floor Tiles provide an eco-friendly recessed matting alternative. Although Waterhog tiles are constructed entirely from recycled plastic, their heavy resilience is well-suited for spaces with moderate traffic. And, they won't fade or rot over time.
If you're considering a recessed mat for your business and don't know where to start, contact Eagle Mat and Floor Products' customer representatives at 877-333-1018. We can help you determine which recessed mat suits your budget, space, traffic and current interior design.