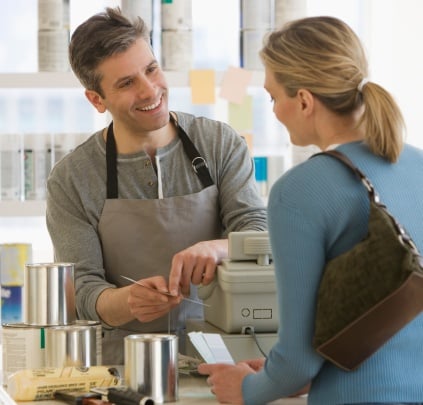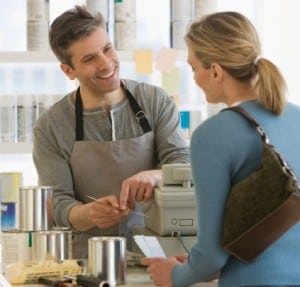 With the digitization of our world, customer opinion can greatly affect the credibility of any business.  Customer can build or break the reputation of a company with a simple review on Yelp, Facebook, Twitter, or any number of local business review sites. Products and prices has become only a part of the overall experience of customers.
Enhancing the customer experience has now become a priority for businesses because the marketplace has now changed.  It is important to engage customers in a positive way, carefully considering how they feel while they are in the store.  Building customer relationships should be the priority behind customer experience enhancement.   Focusing on improving company public perceptions via enriching customer experience on a one on one basis will increase revenue and forge loyalty.
Put Your Best Foot Forward
When dealing with clients, personable customer service should always take precedence.  Sales representatives, front-desk personnel, customer service representatives, and members of the staff who interact with clients in a regular basis should always represent professionalism.  They must actively pursue a positive image for the company by ensuring a positive customer experience.
Connecting and maintaining relationships with customers should be the priority.  The business-client relationship does not start and end at the point of sale.  Establishing a positive customer experience from the outset can help effectively forge these relationships.  According to Business Week's Jeneanne Rae, "Building great consumer experiences is a complex enterprise, involving strategy, integration of technology, orchestrating business models, brand management and CEO commitment." (i)
Essentially, businesses are encouraged to expend some of their resources devoted to study consumer patterns.   Using analytics, companies distinguish the parts that they do well and aspects that need improvement.
Why Enhance Customer Experience?
Enhancing customer experience might sound like an overwhelming process, but there are a host of intangible positive effects, aside from increase in revenue, that make it a worthwhile pursuit.  When employees provide excellent service to customers, they also receive positive affirmation in the process.   The positive customer experience motivates staff and encourages them to replicate the same result in every interaction.
In-store experiences that focus on client happiness and satisfaction elevates a company's reputation that no amount of marketing can replace.  Marketing does not make respect, service, and care tangible.  People are the ones who care for other people.  With shopping ever more associated with feelings, it is important that clients feel a human connection with their suppliers.  Treating customers graciously makes them feel valued.  Respecting their needs acknowledges that their patronage is important.
In short, customer experience enhancement is a very human affair, which relies on improving relationships and creating connections.
Enhancing Customer Experience: It's all in the Details
While most business research tout that customer experience is spread over a series of platforms, which include social media, online interface, etc., the most visceral and impactful of these experiences are the ones associated with in-store interactions.   Our society might be pushing for virtual exchanges these days, but we still consider our most important experiences to be sensory in nature.
We base our opinions from conscious and unconscious cues from our surroundings.  Businesses must remember that their facilities must always present them in the best light.  The general appearance of a store is a valuable facet of the customer experience.   Visitors should encounter safe and sanitary conditions in order to make the most of their time at a store.  Sometimes investing in something like adequate floor covering can sometimes be the difference that separates two nearly identical stores.
For example, compare these two nearly identical food service restaurant businesses.   The first takes care to have floor mats in their kitchens that discourage the proliferation of microbes and germs.  They use effective kitchen mats that absorbs moisture and can be easily drained.   Using this effective tool to promote sanitary conditions in the kitchen, the business enhances the customers experience by assuring them that the food they purchased was cooked in a clean and safe environment.
On the other hand, the other restaurant does not prioritize nearly as much on floor coverings as the former.  While their food might not be poisonous, it can be argued that they do not care about proper sanitation and safety in their food preparation.  After noticing that their floors are dirty, moist, and full of litter, the consumer, out of fear, refuses to patronize their business, and takes his custom to their competitor.
Tiny details –even things such as floor mats – matter .  Presentation matters.  How customers feel matter.  Take the time to know your customer, and make them feel that they are important to your business.
Sources for this report include:
(i) Rae, Jeneanne (November 27, 2006). "The Importance of Great Customer Experiences". Business Week. Retrieved 2012-11-25