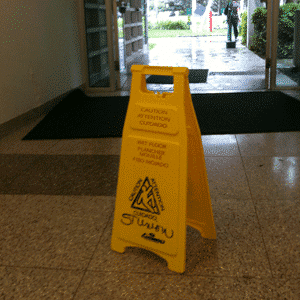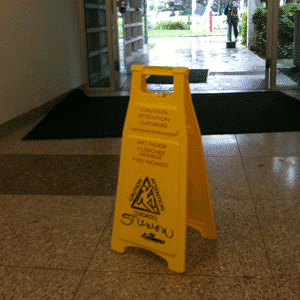 Because slips, trips, and falls, are such a major problem for businesses, costing around $1 billion dollars per year (which we remind you of regularly), the National Floor Safety Institute issued a Guide in 2012 on Standards for Commercial Entrance Matting.
This guide is so good, that we decided to summarize it for you here.
Why Use Floor Mats? Floor mats make your floors safer. Proper floor mats remove dirt, debris, and water from people's shoes and prevent that dirt and water from being tracked through your premises. Keeping all this water and dirt on the mats instead of on your floors makes your floors less slippery, so you will have fewer accidents. Mats also reduce airborne pollutants and improve your indoor air quality. Slippery floors are particularly hazardous for the handicapped and those using wheelchairs or crutches or canes.
Which Mats to Use? Choose your mats based on their applications. For example, areas where lots of water will be tracked in need special mats for water absorption like Waterhog Mats.
Safety Considerations. The guide discusses safety considerations in detail. Bigger mats are safer than smaller mats because the former is more stable and less likely to move around. Mats need to be kept clean, and for that, you follow the manufacturers' instructions. Some can be hosed off and laid to dry, and others can be commercially laundered.
Where Should Mats Be Placed? Mats should go where you need them. For example, kitchens need special kitchen mats. Entrances need entrance mats. Permanently wet areas, like near pools or showers, need mats designed to absorb and/or channel away water. And the list goes on.
If you didn't know it, your place of business needs floor mats. Mats make the area safer for both employees and visitors. Mats are also more comfortable for those who have to stand for long hours on a hard floor, and if your employees are happier, then they will be more productive. And while you're using mats, you can also kill two birds with one stone by using Logo Floor Mats to make a marketing statement to the public while increasing area safety. Adding floor mats is a small thing that will make a big difference at your place of business.
Do you have other questions? We have been providing sales and installation of commercial flooring products to the following market segments for over 35 years: Corporate, Education, Hospitality, Government and the commercial real estate community. It's easy to contact us, and we're happy to help. You can always call us at (301) 762-2000 or email us at sales@eaglemat.net for more information.