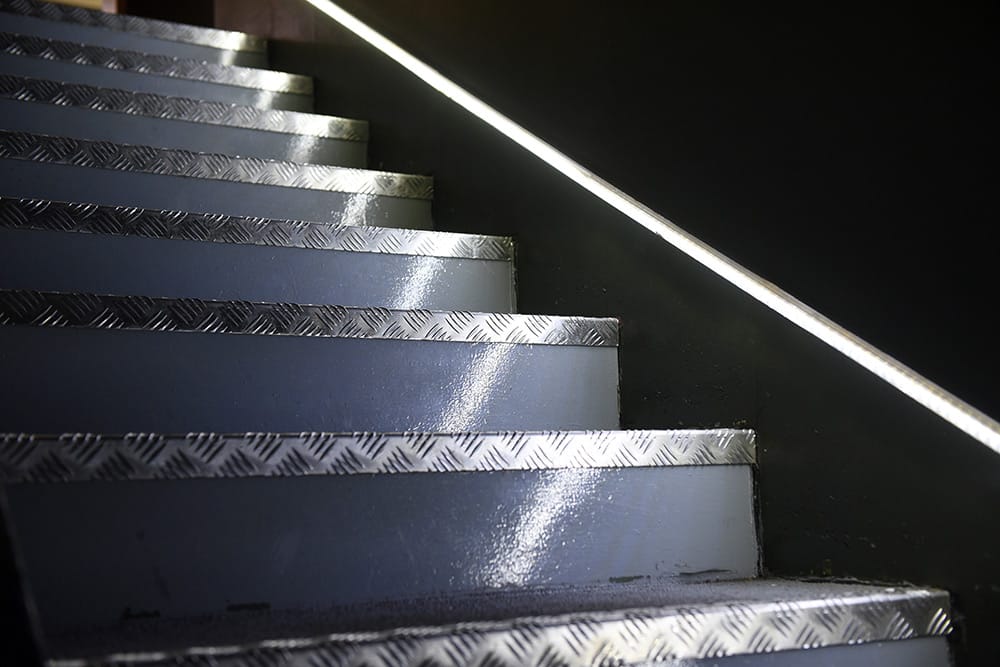 ‍Slips, trips and falls happen every day at workplace stairways and all business owners can benefit from stairway safety. In particular, stair treads can help prevent potential accidents or falls. They are applied directly to the stepping surfaces of stairs and perform many functions. Eagle Mat's stair treads help to control debris, increase traction and prevent slip-and-fall accidents.
We are proud to offer non-slip stair treads that are constructed of high-quality rubber, vinyl, or aluminum. Our line of rubber stair treads is compliant with the International benchmark for safety. Each has a Flame Spread Rating of 25 or less in accordance with ASTM-E84.
Check out our collection of stair treads is available in a range of beautiful colors for any stairway.
Circular Disc Rubber Stair Tread
Our Circular Disc Rubber Stair Treads feature 3/4″ disc pattern to provide superior traction on stairs!  Heavy-duty, durable, and easy to clean, these stair treads are perfect for use in stairways, landings, entranceways, and more!
Diamond Pattern Rubber Stair Tread
Increase traction with these Diamond Pattern Rubber Stair Treads!  Available in a range of vivid colors, these rubber stair treads add safety to otherwise slippery and dangerous stairwells.
Smooth Surface Rubber Stair Tread
Our Smooth Surface Rubber Stair Treads are heavy-duty and resilient, ideal for application in public stairways, entranceways, and other areas where extra traction is necessary!
Outdoor Heavy-Duty Rubber Stair Treads
The Outdoor Heavy-Duty Rubber Stair Tread is very durable and designed to be safe even during inclement weather such as rain, snow, and sleet and is made from 100% Recycled Tires.
Grit-Strip Aluminum Stair Tread
Grit-Strip Aluminum Stair Treads are manufactured of the highest quality, heavy duty extruded aluminum configured to house our exclusive safety traction surface of special abrasive non-slip particles. These particles are bonded and locked into the aluminum base to make these treads more durable than concrete, stone or marble.
We also have a variety of stair risers to complement our line of stair treads. What are stair risers? Risers are placed over the vertical faces that extend from one step to the next. Check out our full line of stair treads and risers directly on EagleMat.com.
Eagle Mat and Floor Products proudly represents the finest in commercial mats and floor covering products in the marketplace. Our company is actively involved in the sale and rental of matting, safety flooring, and other products that help businesses deliver the highest quality of service to clients, patrons, and employees alike.