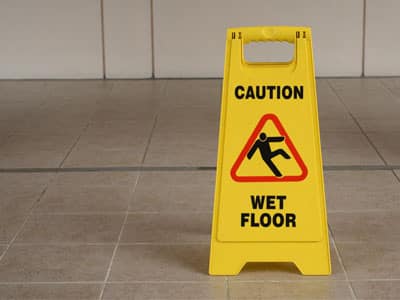 2020 has been a challenging year for many businesses, yours among them probably. As the year mercifully comes to a close, the last thing you need is the cost and headache of a personal injury claim brought by a customer, client, or visitor who slips and falls on your property.
But the snow, ice, and rain that fall during the winter make the season prime-time for such accidents. And business owners who fail to take the steps necessary to minimize the likelihood of slip and fall accidents will pay the price for the often severe injuries that result.
700,000 Americans Hospitalized Every Year
Falls don't just cause embarrassment or a few scrapes; they send Americans to the hospital every day with often fatal injuries. Falls are the third-leading cause of unintentional injury-related deaths in the United States. The Centers for Disease Control and Prevention reports that:
Over 700,000 Americans are hospitalized each year because of a fall injury.
One out of five falls results in a serious injury.
Falls are the leading cause of traumatic brain injuries (TBI).
Every year, 2.5 million American seniors receive emergency room treatment for fall-related injuries.
Customer/Visitor Slips and Falls Cost American Business Owners Millions
When a visitor or customer trips and falls because a business owner fails to meet their obligation to keep their premises in good order and in a reasonably safe condition, that person may have a claim against the owner for compensation. Such claims are based on a legal concept known as "premises liability," and they cost American businesses millions of dollars each year.
While slip and fall claims brought by people other than employees are usually covered by the business' commercial general liability insurance policy, such claims can lead to a hefty increase in premiums. If the owner self-insures their property, and amounts paid for a slip and fall claim will come right out of their pockets. And those sums can be significant.
Slips and falls that lead to general liability claims cost an average of $30,000. But when a traumatic brain injury results from such an occurrence, as they often do, the price tag can be exponentially greater. According to commercial insurer CNA, the average cost of a traumatic brain injury in a general liability claim between 2007 and 2012 was $269,643.
Minimize The Risk Of Devastating Slip and Fall Claims With Commercial Floor Mats
The best way to prevent such devastating liabilities is to recognize and understand how they happen. Common causes of slips include oily or wet surfaces, spills, weather hazards, and loose rugs or mats.
Entrance floor mats are the most effective means of proactively avoiding such accidents and liability claims. Additionally, these floor mat installations let your guests know that they are entering a clean and professional workplace that values their safety.
Eagle Mat and Floor Products proudly offers the finest in commercial mats and floor covering products in the marketplace. We are actively involved in the sale and rental of matting, safety flooring, and other products that help businesses deliver the highest quality of service to clients, patrons, and employees alike.
Contact us today at 1-877-333-1018 to speak with our knowledgeable sales team about product availability, functionality, and installation.