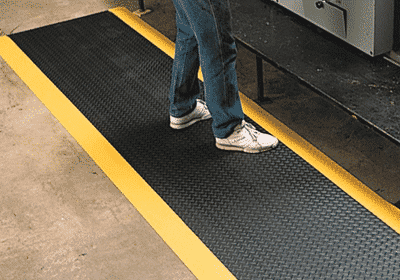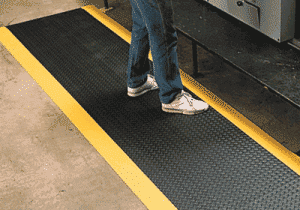 Welcome back to the Eagle Mat and Floor Products article series, Mat Placement.  So far, we've explored how polypropylene and rubber make ideal matting products for outdoor applications in the first installment of this series, Mat Placement Part I:  Outdoor Entry Areas.  In our second installment title Lobbies and Service Areas, we navigated through the exciting world of logo mats to learn more about making a lasting first impression with guests and potential customers.
Today, we examine forward-thinking and creative matting solutions for manufacturing areas.
Manufacturing Areas:  Choosing a Matting Solution That Fits
Commercial floor mats are a necessity for all manufacturing facilities.  These mats add a layer of safety and comfort to a production zone that uncovered concrete simply cannot provide.  Businesses can expect to see an increase in employee satisfaction, productivity, and overall operational profitability when the following 3 things are considered:
1. Choose Between a Regular Mat and a Runner Mat
One way to choose an industrial matting solution for your production facility is to assess the areas in which the floor must be protected from mechanical structures, tools, and employee work.  Then, based on the size of the area that needs covered, one can choose between an ordinary rectangular floor mat and a runner mat.  Rectangular mats may range from 2 to 4 feet wide and up to 8 feet long.  Because of their relatively small size, these mats are recommended for use in front of freestanding stations where only a few individuals will be working.  Runner mats, on the other hand, are available in lengths of 50 feet or more.  For this reason, runner mats are best used alongside long assembly lines and robust machinery where teams of individuals (usually 6 or more) will be working together.
2. Ask:  What Kind of Work is Being Done?
A second way to choose an industrial safety mat is to first consider the nature of the work being performed.  Does the work require an employee to spend many hours standing?  Are the tasks being performed physically arduous?  Is there a customer service element required of employees?  Getting to know the following types of specialty matting will serve as a guide to choosing products that help employees perform to their greatest potential:
Anti-fatigue mats:  Anti-fatigue matting, sometimes referred to as soft floor matting, is ideal for areas where employees spend many hours on their feet.  These mats are made of several squishy layers that compress when walked on, stimulating the muscle fibers of the feet, legs, lower back, and hips.  This stimulation causes an increase in blood flow that keeps employees feeling fresh, thus earning them the name anti-fatigue.
Anti-static mats:  Anti-static mats are to be used in computer labs and other areas that house electrical equipment.  There is a high degree of risk associated with electrostatic discharge (ESD) in such areas, and anti-static mats help to prevent damage by channeling ESD in safe ways.
Clean Room mats:  Laboratories, hospitals, and research centers all have areas that must be kept sterile and free from outside bacteria.  Clean room mats have a tacky surface that literally lifts dirt, debris, and bacteria from the soles of shoes.  Particles that are taken from the undersides of shoes become stuck in the surface of the clean room mat, keeping the area proceeding the mat clean and sterile for daily use.
3.  To Logo, or Not to Logo
That is the question.  Today, nearly all floor mats may be customized with a company crest, slogan, or logo in a wide variety of vibrant colors. Logo mats can be carpet, rubber, polypropylene, or vinyl, each material having a unique process in which a nearly flawless logo may be etched into the surface.  A logo mat is generally a good idea in any area where the company brand image may be presented to an audience.  An audience, in this case, can be both customers and employees.  When it comes to customers, logo mats can be an effective means of reinforcing a company's brand image.  Logo mats may also present a company logo or slogan in employee-only areas to reinforce a sense of company culture among workers.
Follow-up:  Mat Placement in Food Service Areas
Don't forget to visit the Eagle Mat Blog next Monday for the final installment in our Mat Placement series, where we'll examine the unique needs of food service areas and the matting products that keep those areas fully functional and bacteria free.
Eagle Mat and Floor Products invites readers to shop a full line of commercial floor mats and safety products online!  Businesses may also contact Eagle Mat online or call our friendly Customer Service experts at 1-877-333-1018 with sales inquiries.