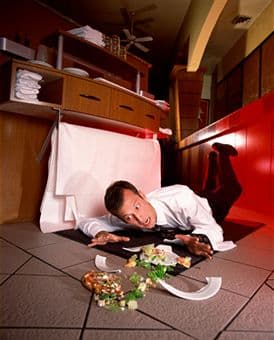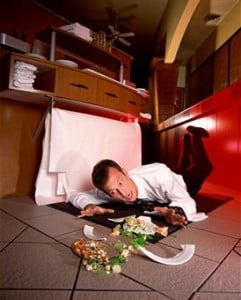 Welcome back to the fourth and final installation of the Eagle Mat and Floor Products Mat Placement Guide.  So far, we've explored the importance of using rubber floor mats in the areas leading up to the entryway of your facility.  In our second installment, we took a step through the front door to examine the different types of indoor entrance mats that provide a layer of stylish safety in lobby, reception, and other service areas.  Last week, our third installment reviewed how best to use anti-fatigue mats and runners to make production areas more comfortable and productive places to work.
We now turn our attention to food service areas to get a better idea of how commercial floor mats can be used to make these places a more safe, hygienic, and comfortable place to work.
5 Things to Consider Before Purchasing Kitchen Mats
Kitchen mats can be very similar to other 100% rubber outdoor mats.  Both types of mats are resilient, slip-resistant, and used to add traction and safety in frequently traveled areas.  However, kitchen floor mats offer several unique features that make them ideal for use in a variety of food preparation and service settings.
Before choosing a kitchen matting product, one must consider the following five questions.  This will help to identify specific needs that the mats must fulfill.
1. Are liquid spills common in the areas that are to be covered?
Kitchens, liquor bars, and other food preparation areas may experience liquid spills several times during operating hours.  Spills can range from mild to extreme, and the floor mats in these areas must be prepared to handle the worst case scenario.  Kitchen mats with drainage holes are recommended in these areas.  Such mats are available with a variety of drainage holes, ranging from small circular holes to large horizontal holes, or slats.  Choosing mats with appropriate sized holes is essential as they allow liquids to pass through the mat and away from the spill site.  This maintains a dry, clean, and safe space on which to work.
2. Are food spills common in the areas that are to be covered?
Kitchens and food preparation areas have floor spaces that are prone to food accumulation.  Kitchen mats with antimicrobial technology are recommended for areas like these.  These matting products are treated with a special chemical that inhibits the growth of bacteria.
3. How long will employees spend standing in the areas that are to be covered?
Kitchens, food preparation areas, and liquor bars are typically worked by employees who spend long hours standing on their feet.  Floor mats that keep employees comfortable are a necessity, since customer service is intricately tied to the success or failure of food service businesses.  Anti-fatigue mats are a must for these areas, as they flex underfoot to stimulate blood flow and keep employees feeling energized.  Readers are encouraged to visit the Eagle Mat Blog article on ergonomics and anti-fatigue mats to learn more.
4. Will the floor spaces be frequented by persons with disabilities, service carts, or other devices with wheels?
The following kitchen mat products are available with beveled or low profile edges to help achieve ADA compliance and make areas more accessible:
5. How cold will the area get?
Kitchen freezers and refrigerator rooms require special matting products that are capable of withstanding frigid temperatures.  These floor spaces need resilient kitchen freezer mats, or comparable products, that can endure below-freezing temperatures.
Mat Placement Guides by Eagle Mat and Floor Products
Our Mat Placement Guide article series seeks to help property owners, facility managers, and marketing departments rethink the use of floor mats in their commercial business locations.
Part I:  Outdoor Entry Areas:  From front sidewalks to entry stairs, this article reviews the outdoor safety products your business must consider to keep areas dry and safe.
Part II: Lobbies and Service Areas:  There are a range of entrance mats available to meet safety needs while also enhancing interior décor!  From logo mats to entrance runners, this article is an informative overview of the products that are available to facilitate both safety and branding needs.
Part II:  Industrial and Manufacturing Areas:  Manufacturing areas require special industrial-strength floor mats and runners.  This Mat Placement Guide reviews the basics, including shape, make, and material selection.
Contact Eagle Mat
Readers may contact Eagle Mat online with additional mat placement questions, or call toll free 1-877-333-1018.