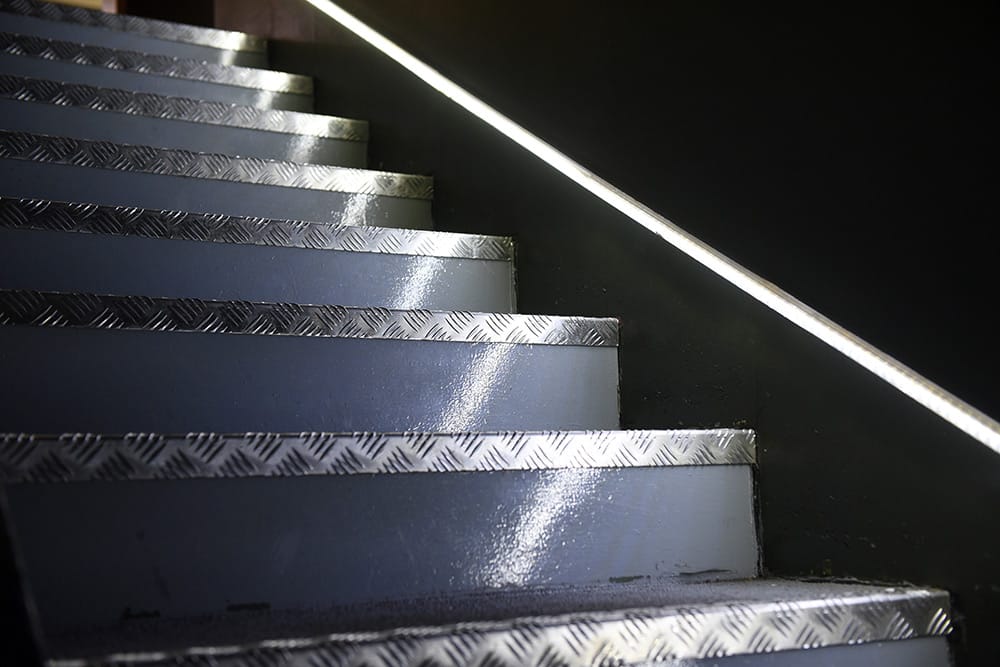 Stairs are no longer the utilitarian necessity of yesteryear. Today more and more architects and interior designers are making stairs an integral part of overall design, and making them a beautiful feature in and of themselves.
So, how can you make stairs beautiful?
Safety.
Whatever you do with design, make sure your stairs first meet code requirements for rise/run and lighting. More than a million people have accidents on stairs every year. People don't perceive stairs as dangerous, but they are. Make sure stairs have good traction, adequate lighting, and appropriate handrails.
Incorporate Design in What's Required.
Since you have to have well-lit stairs anyway, use design in the lighting. Make the lighting interesting or unusual. Light treads underneath or along the side.
Consider making the handrails unusual or colorful or soft to the touch. Do something unexpected where you're required by code to have something anyway.
Biophilic Design.
One of the current trends in office design is what's called biophilic design. Biophilic design is bringing the outside in. It's designing space so the user can experience the benefits of nature. It means having big windows, for example, so you can see the trees or having windows that open near stairways so you can feel the breeze.
Some people are incorporating plants into stairwell design, either planted along the sides or winding up the handrails. Anything that helps you to experience nature is a plus.
Experiential Design.
Another trend in office design is what's called experiential design. It means interacting with the environment wherever possible. So, in the case of stairs, places where you can sit down and rest or talk to others would be an example. Or you can have some kind of message written on the fronts of steps, so those going up can learn about your business or branding or feel something positive or encouraging.
Anything that inspires the stair user to interact with the stairs would fall under experiential design.
There's no limit to what can be done with stairs and stairwells to make them more interesting. Also, by making the stairs more interesting to look at and experience you may be increasing the safety value, as most people don't think twice about going up or down stairs. If you do a Google search for "beautiful stairs in offices" you will be amazed at the possibilities.
Do you have other questions? It's easy to contact us, and we're happy to help you. You can always call us at (877) 333-1018 or email us at sales@eaglemat.com for more information or if you aren't sure what you need.