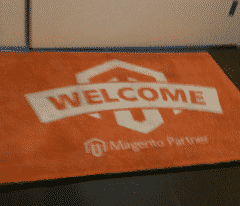 If you are a Web Developer, you may have noticed that Eaglemat.com is built on the Magento ecommerce software platform.  This platform was chosen because it is robust yet capable of being customized to provide a rich and user-friendly online shopping experience.
Best of all, Magento software source code is free and readily available to the public.  This open source software enables skilled programmers from around the world to access and build upon the original source code.  Programmers then share these custom extensions with the open source community, creating a collaborative environment that drives innovative software improvements and distribution.
In an effort to better serve customers on Eaglemat.com, Eagle Mat CIO Jon Blumberg attended the Magento Developers Conference in Miami to learn more about the future of the dynamic software company.  Flying from Maryland to Miami, Blumberg recalls having encountered many of Eagle Mat's most popular commercial floor mat products.
Airports and Anti-Fatigue Mats
The first commercial floor mat installation Blumberg noticed was at the Washington Dulles International Airport.  After checking in, he made his way to the long line at the airport security checkpoint.  After nearly 30 minutes in line, Blumberg finally approached the metal detectors and began unpacking his carryon.  Then, he noticed something:
"The TSA agents at our airport stand on anti-fatigue mats," he explains.  "It makes perfect sense.  TSA agents are responsible for the safety of the travelers entering the airport concourse every day.  They cannot afford to suffer with muscle fatigue, agitation, or a lack of mental focus."
Anti-fatigue mats are the "squishy" mats you see at not only airport security checkpoints, but also in a variety of other commercial buildings.  These mats are often used behind the service counters at banks and hotels, as well as along assembly lines in production facilities.  They flex underfoot and stimulate the muscle fibers of the feet, legs, and lower back.  Forward-thinking businesses understand that anti-fatigue mats have a direct impact on employee comfort, job satisfaction, focus, and productivity.
Hotels and Entrance Runners
Next, Blumberg noticed an elegant Berber Supreme Entrance Mat extending outward from the entrance of his hotel.  Berber Supreme Entrance Mats are one of the highest quality mats on the market.  They feature a distinct Berber pattern, consisting of staggered nubs that are made of a coarse and resilient combination of polypropylene fibers.
"Berber mats are incredibly popular because they are aggressive in their ability to clean yet elegant in appearance," Blumberg explains.  "The hotel did a fabulous job of coordinating a 12' long charcoal colored Berber mat with the dark marble statues in their entry way.  It looked very, very sharp."
Company Events and Logo Mats
Finally, Blumberg took notice of a logo mat at the entryway at the Magento Developers Conference (pictured above).
"I was happy to see a Magento logo mat at the entry way to the conference room," Blumberg remembers.  "We've Blogged about how effective Marketing with Logo Mats can be, and it was exciting to see such a large multinational company using a logo mat to reinforce their brand image."
Logo mats are a creative and cost effective means of reinforcing a brand or company slogan with customers.  Today, advances is digital printing technologies have made possible the creation of intricate logo mats available in a nearly limitless variety of eye-catching colors.  High end products like the Waterhog Logo Mat feature an even more advanced logo creation process, whereby an artist uses a razor-cut inlay process to lift and embed a logo into the surface of the mat.  The end result creates one of the most crisp and durable logo mats on the market.
Spot and Share:  Message Unique Commercial Floor Mat Installations to Eagle Mat on Twitter!
Have you taken notice of an intelligent commercial floor mat installation?  We would love to here about it!  Join the conversation, and share a photo or comment with Eagle Mat by messaging the Eaglemat Twitter account!
Eagle Mat would also like to invite readers to explore one of the Web's largest collections of floor mats and other property management products on Eaglemat.com today!