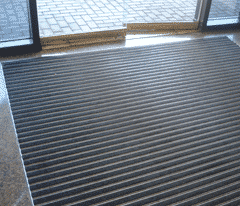 Recessed grilles are heavy-duty solutions that are ideal for use in the entryways of several types of commercial and industrial locations.  These recessed entrance mat systems are comprised of horizontal aluminum inserts that are alternated with either carpet, vinyl, or acrylic inserts.  The overall system lies flush with the floor, creating an area that aggressively cleans and contains dirt without presenting a tripping hazard to visitors.
Recessed grill mats remain flat, uncurled, and fully functional in virtue of their "flush" application within the floor space of an entryway.  The following locations are specific examples of environments that may directly benefit from the superior cleaning ability and flush-to-the-ground safety delivered by recessed grill systems.
Recessed Grilles at Transportation Hubs
What one thing do airports, train stations, and bus terminals have in common?  Each type of location experiences heavy amounts of visitors who enter and exit the property, sometimes around the clock.  Moreover, traffic tends to increase drastically in these locations during the Holiday Season.
These transportation hubs illustrate a valuable lesson for facility owners and managers to consider:  with increases in traffic comes a corresponding increase in environmental debris and risk.
Each visitor who passes through the entrance of a facility is a potential liability to property owners who do not proactively take measures to ensure safety.  Ordinary rubber or polypropylene entrance mats may be sufficient in preventing accidents in facilities that experience light to moderate traffic, but they may fall short when used in locations that experience a nearly continual inflow and outflow of visitors on a daily basis.
Recessed grill systems have the aggressive cleaning capability that heavily trafficked areas require in order to stay clean, dry, and safe through long operating hours.  Facility owners also benefit from the design of recessed grill installations; recessed grilles are about an inch tall on average, but they are installed in recesses in the floor.  This creates a compartment within the floor space, tucked just below the surface of the recessed grill system, in which debris and moisture may accumulate.  This contains the debris and moisture below the surface of the floor, where it does not have the opportunity to accumulate and create a hazardous condition.
Recessed Grill Systems for Facilities with Vestibules
Vestibules are compartments that serve as an airlock between the interior and exterior of a building.  These unique entryways typically consist of a set of double doors, an open room that is neither heated nor cooled, and a second set of doors that leads to the interior of the building.  These compartments are most common in environments that experience extreme weather conditions because they help to regulate the flow of both heat and air conditioning.  Facilities in hot climates benefit from vestibules because they limit the flow of air conditioning from the interior to the exterior of the building.  Similarly, buildings in cold climates benefit from these unique compartments because they help to contain heat.
Vestibules are also beneficial to facilities that experience heavy amounts of visitor traffic, like the transportation hubs described above.  In these settings, vestibules help to keep dirt, debris, and moisture from being tracked into the interior of a facility.  Generally, these locations also benefit from recessed grill installations because of the high volume of visitor traffic they experience.
Recessed Grilles on Eaglemat.com
Eagle Mat and Floor Products carries heavy-duty recessed grill systems that are ideal for a range of commercial and industrial applications.  We have characterized our most popular recessed grill mat systems below, according to the primary benefits associated with each:
7/16" Recessed Grill Pedimat – The Pedimat is one of the most popular choices among both architects and Class-A buildings.  Brute strength meets aesthetic beauty in this recessed grill system, now available in a virtually limitless array of colored carpet, vinyl, and acrylic inserts!
3/4″ Recessed Grill Peditred – The Peditred combines industrial strength with ease-of-use, making this recessed grill system the industry's strongest and most easily cleaned architectural grid.  This system can be rolled backward for easy cleaning, yet it is strong and resilient enough to withstand up to 1,000 lbs per wheel rolling load.
1 13/16" Recessed Grill Pedigrid – The Pedigrid is the tallest grill system offered, measuring 1 13/16" deep.  The Pedigrid comes equipped with vinyl cushions that are spaced every 20" to protect its aluminum rails from contact with the underlying concrete.  At over a full inch deep, the Pedigrid offers substantial room for dirt and moisture accumulation and comes in a variety of eye-catching colors sure to match most interior décor!
Contact Eagle Mat for More Information on Recessed Grilles
Eagle Mat and Floor Products proudly represents over 30 years experience in commercial matting and property management products.  Our experienced sales team is available to help you choose the recessed grill system that will meet the unique needs of your facility.
We encourage readers to contact Eagle Mat on the Web or call our Customer Center at 877-333-1018.  Readers may also visit our Recessed Mats, Grills, and Cocoa Online Store for a full line of recessed grill and matting products.