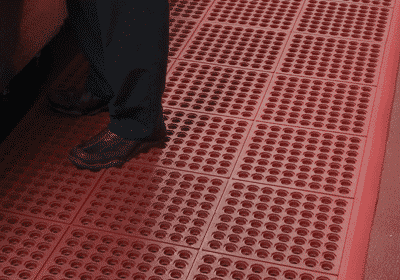 It just takes ONE quick slip! A greasy floor, condensation, water, spilled food or uneven flooring could send an employee or guest to the hospital and land your business with a lawsuit.
Many of the causes of slips and falls at restaurants and commercial kitchens can be found at workplaces in other industries. Kitchen mats create safe and clean environments for businesses in the food service industry.
These are best used in bar areas, food preparation stations, and large refrigerators. Our collections of rubber mats are made of 100% Nitrile rubber for long lasting durability. We proudly offer leading mats by Sanitop, Versa, and Knob Top.
We invite you to browse our Restaurant Matting collection.
Restaurant Kitchen Mat
Restaurant Kitchen Mats are ideal single commercial restaurant drainage mats constructed using a durable rubber compound formed with an alternating large hole/ small hole system. The raised pattern surrounding the large holes works to channel drainage and debris from the worker platform, while providing excellent traction.
Restaurant Kitchen Mat Lite
The Restaurant Kitchen Mat Lite is a lighter, all-purpose anti-fatigue mat with molded-in beveled edges for a more workstation-oriented environment.  Its lightweight design makes it perfect for applications where the mat is routinely moved for cleaning.  Large hold drainage system facilitates the removal of liquids and debris from the work areas.
Restaurant Premier Kitchen Mat Tile
Restaurant Premier Kitchen Mat Tiles are perfect for creating custom configurations to fit your floor space. The Premier Kitchen Mat has a thicker rubber construction providing exceptional fatigue relief and support under your feet. The large-hole drainage system keeps moisture and debris free from the platform of the mat.
Restaurant Supreme Kitchen Mat
Restaurant Supreme Kitchen Mats are extra heavy-duty perforated mats designed to provide maximum comfort while standing for long periods of time. Large-hole drainage system allows food and liquid spillage to channel away from the worker platform. This is the thickest kitchen mat available.
Rubber Drainage Kitchen Mat
Rubber Drainage Kitchen Mats are constructed using a commercial grade, heavy-duty Nitrile rubber for long term use. Multi-directional raised rubber ridges effectively scrape the bottoms of shoes while staying firmly in place. Circular holes punched out of the mat act as a drain for dirt and moisture to flow through, keeping the surface of the mat clean and effective. Ideal for entrances, restaurant kitchens and refrigerators, and locker rooms.
Do you have other questions? It's easy to contact us, and we're happy to help you. You can always call us at (877) 333-1018 or email us at sales@eaglemat.com for more information or if you aren't sure what you need.