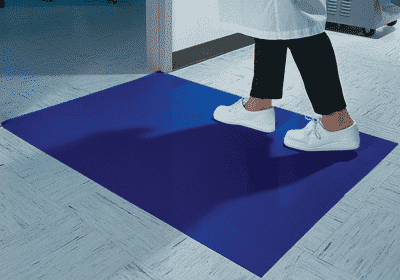 As the coronavirus (COVID-19) pandemic continues to grow, it is critical to help curb and avoid the spread of the virus altogether. How can you avoid the transmission of viruses and bacteria in your business? Let's talk about how anti-bacterial floor matting can sterilize environments…
Clean room mats are placed in the entryway to the sensitive area while cleaning the shoes of guests prior to their entering the premise. Impurities are left behind as dirt and debris are trapped to the tacky surface of the mat. These special mats have the added benefit of anti-microbial technology. The anti-microbial technology in these sterilized mats helps to kill bacteria.
Our online store features many matting options from manufacturers like Waterhog, Pur-Comfort, and PermaTrack. 
Clean Room Sticky Mat
Clean Room Sticky Mats trap impurities on its sticky surface in environments that may require dust and dirt control. The tacky surface rips dirt and dust off the bottoms of shoes before one can enter a contamination-controlled zone. Clean Room Mats offer economical dirt control for low-profile carpet, tile, or concrete surfaces.
A sticky mat traps contaminant before they can pollute a sterile environment. These mats are popular among hospitals, laboratories, and food service businesses. Sticky floor mats prevent the contamination of most sensitive areas. This is achieved through proper placement.
Waterhog Clean Room Sticky Mat
Waterhog Clean Room Sticky Mats give all the characteristics of Waterhog Classic matting while providing a very unique dual-action feature. The polypropylene fibers of the raised "nubs" remove large amounts of dirt while the sticky mat captures dust, debris, and scuffs before entering a contamination free zone. The sticky mats simply drop into the Nitrile rubber recess of the mat.
PermaTack Permanent Sticky Mat
PermaTack Permanent Sticky Mats are high performance, industrial strength tacky mats built for contamination-controlled environments. PermaTack is ideal for inside and outside critical areas, such as clean rooms in the following industries: Industrial, Medical, Pharmaceutical, Aerospace, Semi-Conductor, and Food Production.
Sterilized Anti-Fatigue Clean Room Mat
Sterilized Anti-Fatigue Clean Room Mats are fully autoclavable comfort mats designed for sterilized environments. The SBR/Nitrile compound is extremely resilient and manufactured with antimicrobial sanitizing agents. Tested to withstand extensive sterilization in an autoclave, the mat's solid, non-porous surface can also be wiped clean. The "domed" surface design provides an ideal level of comfort, while the individual size fits flat into standard autoclaves for effective cleaning.
Do you have other questions? It's easy to contact us, and we're happy to help you. You can always call us at (877) 333-1018 or email us at sales@eaglemat.com for more information or if you aren't sure what you need.