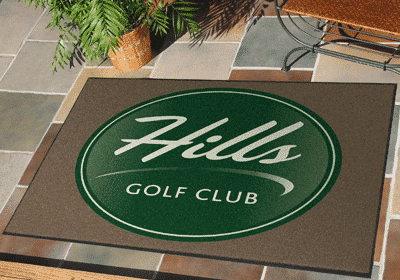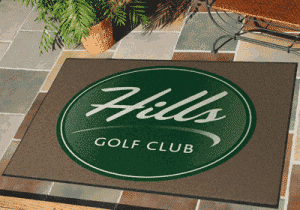 Welcome back to the Fall Product Spotlight article series on the Eagle Mat Blog! With fall just around the corner, business owners are beginning to revamp risk management programs in anticipation of busy crowds and unpredictable weather. Last week, we showcased Waterhog entry matting as one of the industry's most popular and versatile safety matting solutions. If your business is looking for an effective indoor/outdoor product, we highly recommend referencing last week's article.
This week, we turn our attention to lobbies, reception areas, and other floor spaces just inside the entryway. These areas play a special role in customer service and provide an opportunity for organizations to enrich overall customer experience with customized safety products that compliment interior aesthetics and brand image.
Graphic Impressions: A Logo Mat with Unparalleled Aesthetics
The Graphic Impressions logo mat is produced in a way that enables sharp, long-lasting logos in a nearly endless variety of colors. Each product is manufactured using a computer-controlled digital printing process, making Graphic Impressions mats the ideal solution for businesses with logos that contain the following elements:
3-Dimensional images
Complex use of color shading / fading
Unique colors (other than standard shades of red, orange, yellow, etc.)
Highly detailed imagery like thin lines, small visual elements, or abstract designs
Of course, the exceptional aesthetics on the surface of the mat are just part of what makes the Graphic Impressions logo mat a good solution for organizations that wish to communicate logos, slogans, and other visual elements to visitors. Each Graphic Impressions mat features a skid-resistant 100% Nitrile rubber backing to keep it stationary during use. Graphic Impressions mats are also made with static dissipative nylon to ensure electrostatic discharge is never produced nor transferred during use.
Why Choose Logo Matting?
Increasingly, businesses are choosing logo mats over ordinary commercial floor mats because they accomplish other goals as well. Popular examples include:
Cost Minimization: Logo mats are comparable in price to other safety mats. This presents the opportunity to accomplish numerous business objectives (as listed below) without incurring additional costs.
Branding: Logo mats are a great way to reinforce the "visual elements" of a particular business, product, or service. This is particularly beneficial for companies with a well-developed logo, slogan, or color scheme.
Risk Management: Safety mats are not inhibited by the logo designs that are inscribed on their surface. In other words, logo mats function just as well as comparable models that do not have a design on the surface. This makes logo matting equally effective in absorbing moisture, controlling debris, and improving safety.
Facility Cleanliness: In an effort to improve facility cleanliness, businesses should aim to stop at least 50% of incoming debris from making through the entryway. In doing so, facilities can fast-track their progress towards promoting a cleaner and healthier work environment.
3 Tips for Mat Design and Installation
To get the most out of your new logo mats, consider the 3 tips for design and installation:
Choose between a vertical or horizontal orientation. This is one of the most basic steps in creating a logo mat for your place of business, yet many of companies fail to consider it. Take a moment to look at your design and note whether it takes up more vertical space than horizontal. For mats that are "more tall" (take up more vertical space), choose a vertical orientation so the design will be right-side-up when the mat is installed. For designs that are wider than they are tall (take up more horizontal space), choose a horizontal orientation.
Keep color scheme in mind. Logo mats have the ability to compliment interior design, or they may clash with it. When choosing a design for the mat, keep in mind the overall color scheme of both mat and building interior. Make an effort to choose colors that will compliment each other, otherwise the overall feel of the lobby, reception, or service area may be compromised.
Choose a material that will accomplish safety and cleanliness goals. Where will the mat be located? Take a moment to consider the ways in which the environment may affect the mat. Then, choose between rubber, carpet, vinyl, or polypropylene logo mats.
Free Image Upload & Proofing This Fall!
This fall, Eagle Mat and Floor products offers complimentary image uploading and proofing for all logo mats ordered on Eaglemat.com! Do not risk error in product development—upload your design to Eaglemat.com and receive an image receipt via email to ensure the correct design has been received. Confirm, and have your new logo mats delivered to your place of business free of charge!
For more information, please contact Eagle Mat and Floor Products customer services at 1-877-333-1018.