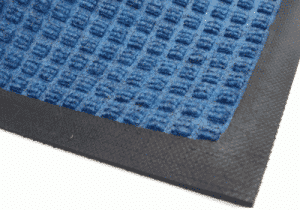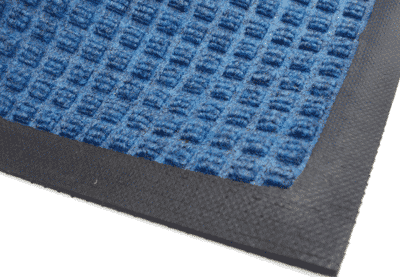 Welcome to the Fall Product Spotlight article series on the Eagle Mat Blog. In preparation for the busiest season for in-store retail shopping, our Blog will publish a weekly showcase of an industry-leading safety product that will keep your place of business clean, dry, and safe this fall.
In our first installment, we focus on one of the industry's toughest and most well-rounded lines of safety matting: Waterhog entry matting. Waterhog mats are a must-have for any business location that experiences moderate to heavy visitor flow, and they are an ideal solution when unpredictable weather patterns make for particularly dangerous conditions.
Waterhog Classic: The Most Well-Rounded Mat This Fall
The Waterhog Classic Entry Mat is hands-down the most well-rounded entry mat. From its polypropylene construction to special Water Dam technology, no entrance mat does more to maintain exceptional standards of cleanliness and safety.
The Waterhog Classic Entry Mat, at a glance:
Environmentally Friendly: Each Classic mat is made with 20% recycled content and is certified as a Green product.
Water Dam Technology: A big part of keeping entryways safe is controlling the accumulation of rainwater, spilled liquids, and environmental moisture buildup. With Water Dam Technology, you can rest assured your Classic mat will hold up to 1.5 gallons of water.
Resilient Polypropylene Construction: Polypropylene is one of the toughest indoor/outdoor fabrics available. This unique material is crush-resistant, ensuring that the waffle-textured surface remains aggressive in cleaning ability over time. Polypropylene is also highly resistant to fading and rot.
Choose a Fashionable Model to Compliment Interior Décor
When aesthetics are important, look no further than the Waterhog Fashion Entrance Mat. Aptly named, the Fashion comes in a variety of eye-catching colors with optional matching colored borders.
The Waterhog Fashion Entry Mat, at a glance:
Highly Absorbent: Like the Classic mat, the Fashion features ultra-absorbent material with built-in Water Dam technology that holds up to 1.5 gallons of water.
Resilient Polypropylene Construction: The Fashion is made with the same ultra-durable polypropylene material as the Classic mat, ensuring you will never need to sacrifice functionality for aesthetics.
Vivid Colors and Matching Border Available: The Fashion comes in 18 vibrant colors ranging from cool Bluestone to red-hot Solid Red. Here's a tip: Select Fashion Fabric Border, and give your mat a uniform look with a matching color border.
Tips for Installation
There are a few fundamentals to keep in mind when it comes to selecting an entry mat that will withstand the hustle and bustle of the season's largest crowds. First, choose a mat based on a realistic assessment of visitor flow. How many visitors do you expect each day? How many do you expect week? Taking a hard look at these numbers will give you a better idea of what type of mat to choose.
Next, size up the area in which the mat will be installed. Generally speaking, an elongated runner mat is preferred to rectangular mats because they give pedestrians a longer surface on which to walk. This equates to better control of moisture, dirt, and other debris. In turn, better control of these variables may translate to improvements in indoor air quality as well as reductions in maintenance costs.
Finally, it is important to note that mats become less efficient as they become more soiled. Moreover, mats may become a dangerous tripping hazard when they are unreasonably dirty, wet, or worn. Prevent this problem by taking proactive measures to keep your entry mats clean. It is recommended that a professional cleaning service be used to fully extract all debris from each mat every 10-14 business days. Cleaning may occur with more or less frequency depending on variables like visitor flow, weather, and size.
Entry Matting Consultation with Eagle Mat
A Maryland-based company, Eagle Mat and Floor Products has provided large and small businesses alike with the industry's leading commercial safety products for more than 30 years. National customers are invited to shop floor mats online via Eaglemat.com. For businesses located in the Washingtone D.C. Metro Area, Eagle Mat offers "hassle free" floor mat rental, rotation and laundering services to keep facilities looking their absolute best, year-round.
For additional assistance, readers are invited to contact Eagle Mat customer services at toll free 1-877-333-1018.