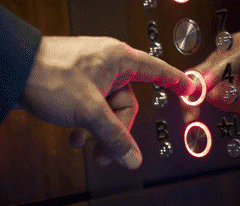 Elevator Pads are a must have for any commercial or residential building equipped with elevators for transporting passengers and freight alike.  Some buildings have designated passenger lifts as well as designated freight lifts, keeping the two separate.  It can be cumbersome and even unsafe for passengers to travel in the same elevators as freight, whether it be furniture, food, facilities maintenance supplies, construction, and even garbage.
The freight elevators tend to be larger than the passenger cabs to accommodate such goods.  Due to the high frequency of movement and weight in these elevators, the walls and panels of the elevators must be protected.  Eagle Mat and Floor Products is an authority of elevator walls pads and has been measuring, installing, and selling these goods for the last 30 years.
Elevator Pads:  Protecting Freight, Cabs, and Visitors
Elevator Pads are important for many reasons:
1)   Sometimes freight and passengers travel in the same elevator.  This is most common in residential buildings where tenants use elevators to move heavy furniture to their apartment or condominium.
2)   Many building simply do not have designated freight elevators.  Therefore, the finely decorated and often expensive inside of the elevator cabs are subject to the use and abuse of its goods and passengers.  Elevator wall pads are perfect to protect dents and scratches to the corners and walls.
3)   Elevator pads are also used in designated passenger elevators simply because passengers can be very destructive, even if unintentional.  Time and money have been poured into keeping these elevators looking new.  Eagle Mat has helped many property owners and managers build stylish elevator pads for passenger elevators that require padding and protection.  Over time, these products help cabs to maintain their original and pristine appearance.
New:  Adapta-pads Make Elevator Pad Measurements and Installation Easy
Eagle Mat and Floor Products is proud to present their newest addition to their elevator wall pads product category:  Adapta-pads.  Adapta-pads are elevator wall pads without the use of grommets, which use small alligator adapta-clamps, which hang down from the elevator wall studs or overhang, and bite into the pads.
"We are really excited about this new product because it really takes a lot of the measuring process out of the equation, making it much simpler for the customer to measure their own cabs," says CIO Jonathan Blumberg.
"The precise measurements of the grommet spacing for construction of the holes isn't needed because the adapta-clamps simply hang from the wall studs and grip the pad itself… We are seeing many more very satisfied customers use the adapta-clamp method."
Elevator Pads on Eaglemat.com:  Customer Service is Here to Help!
Eagle Mat and Floor Products has an experienced sales team that can meet you on location to measure your elevators for you and even make it hassle free by doing the installation for you.  Owner and President of Eagle Mat and Floor Products, Mike Blumberg explains, "Measuring and explaining the installation of elevator wall pads can be difficult.  But I've been doing this for a long time, so even if I'm 1000 miles away on the phone with a customer, I can walk them through how to properly measure an elevator cab for elevator wall pads."
Jonathan Blumberg adds, "This is where our new e-commerce site comes into play.  We sell elevator walls pads all day long throughout the country, even if the customer isn't located locally in the greater Washington, D.C. area.  Our step-by-step outline online along with our expertise minimizes the difficulties customers encounter when trying to measure for a proper fit."
Whether you're located in the greater Washington, D.C. area where the Eagle Mat and Floor Products sales team can measure and install on location, or you're located across the U.S., where Mike and Jonathan's expertise can walk you through the measurement process, Eagle Mat emphasizes the proper use and importance of elevator wall protection for all buildings where elevators exist.  Eagle Mat's 30-year service in the business can assure you the proper fit, customer service, and fair price to keep your elevators looking like the day they were put in.
Contact Eagle Mat for More Information
Customers are invited to contact Eagle Mat online our call 1-877-333-1018 to speak with an experienced sales team member to order customized protective pads for elevator cabs.  Customers are invited to visit the Eaglemat.com Elevator Pads product page for an easy-to-follow guide on building customized pads today!