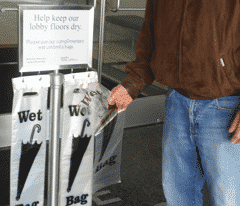 Labor Day has come and gone.  Its seems like only yesterday we were celebrating the start of summer with Memorial Day Weekend.  Perhaps with a mixed drink or on the beach with a nice Corona and lime.  All that is behind us now and it's back to reality.  For those of us on the East Coast and especially in the North East United States, this means lots of rainy and chilly days to come.
Eagle Mat and Floor Products specializes in serving the greater Washington, D.C., Virginia, and Maryland areas.  More importantly is whom we serve: mostly commercial buildings, businesses, and government institutions, dealing primarily with property managers, engineers, and facilities people.
Eagle Mat & Floor Products has been around for over 30 years and more importantly, we have established ourselves as the foremost authority on commercial floor mats and installations in the Washington D.C. area.
Wet Umbrella Bag Stands: A Fall Necessity
Eagle Mat Vice President of Sales, Jonathan Blumberg, who also serves as head of the new internet division, has been working closely with his marketing team and sales division to get the word out and stay ahead of the changing season for both his local and national customers.  "With the coming of Fall, comes the clouds, cold, and rain, which can wreak havoc on office buildings and commercial lobbies," Blumberg explains.  "Most of what we see, especially in D.C. and the Class-A buildings this city offers is spectacular lobbies and entrances, often featuring marble floors… very slippery and dangerous when wet… a law suit waiting to happen."
Eagle Mat proudly offers their answer, and a big seller during these rainy months.  Wet Umbrella Bag Stands serve to keep moisture out of the buildings while helping prevent accidents; all featuring a wonderful, décor complimenting look.  Eagle Mat's Wet Umbrella Bag Stand Supreme comes in either a Polished or Satin Brass or Polished or Satin Chrome.  These high quality stands are guaranteed to look sleek and stylish in the lobbies and entranceways, while serving a very valuable and functional purpose.
Both employees and visitors alike prefer to stay dry, why should the building they are walking through be any different.  Keep your building dry with our Wet Umbrella Bag Stands, which also come with 1000 wet umbrella bags.  You can keep the stand out 7 days a week, or only on rainy days when needed if preferred.  Eagle Mat proudly offers a variety of Umbrella Bag Stands in many different styles and prices that will serve to better your lobby and entranceways.
Employees and guests can simply slip their wet umbrellas into the plastic bags these stands dispense, helping keep the floors dry and safe.
Contact Eagle Mat and Floor Products to order your stand and/or replacement bags today! Property owners and managers are invited to speak directly to Jonathan Blumberg himself at 1-877-333-1018, who is more than happy to take your calls and meet all of your matting and flooring needs.