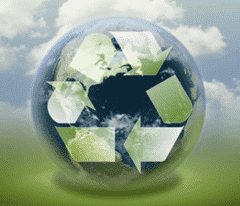 The U.S. Green Building Council created the LEED (Leadership in Energy and Environmental Design) Certification system to award forward-thinking organizations with incentives to employ a vast range of environmentally friendly and sustainable practices.
LEED Certification is more than just a reward system, however.  As the U.S. Green Building Council states, LEED establishes "a framework for identifying and implementing practical and measureable green building design, construction, operations, and maintenance solutions," (i).  The LEED system is dynamic in this way, always searching for additional sustainable practices that may be applied throughout the project life cycle.
The Eagle Mat Blog has created this guide to spread awareness for LEED Certification  requirements and help facility owners give thoughtful consideration to the many areas in which sustainable building practices may be applied.
LEED Certification: Fighting to Protect Our Planet
LEED certification requirements are internationally recognized as the forefront in environmentally responsibility.  Aptly named, this certification recognizes qualifying buildings and organizations as "leaders" in the fight to protect our planet.  The LEED system leverages powerful building, taxation, and other incentives to reward projects that strive for sustainability in certain performance areas (outlined below).
It is important to recognize that LEED Certification does not apply to only construction.  Rather, certification awards participants with specific points, or LEED credits, for employing sustainable practices in project design, construction, and day-to-day operations.  One may get a head start on reaping the benefits of LEED Certification simply by seeking accreditation during the early onset of a project.
LEED Certification Requirements
LEED certification is primarily concerned with promoting Green practices and sustainability in the following areas (ii):
Sustainable Sites: Selecting development sites that limit the need for cars, re-uses of existing infrastructure, and reduce environmental impact.
Water Efficiency: Reducing the need for wastewater infrastructure.
Energy and Atmosphere: Employing methods and technologies that increase building synergies, thus reducing overall energy consumption.
Materials and Resources: Encouraging on-site recycling as well as creating demand for local and environmentally friendly products.
Indoor Environmental Quality: Minimization of IAQ performance, reduction of prevalence of tobacco smoke, and optimization of interior spaces for building occupants.
Location and Linkages: Encouraging building away from environmentally sensitive areas.
Awareness and Education: Spreading awareness for on-site Green technologies to homeowners, building tenants, and property managers.
Innovation in Design: Public recognition of projects that exude innovative design and knowledge of sustainability.
Regional Priority: Bonus LEED credits are available to projects that recognize and address issues specific to local environments, as determined by regional USGBC councils.
In concentrating on these areas, LEED certification aims to promote a holistic approach to sustainability.  Organizations are able to create environmentally responsible places to live and work by examining each major component of the project life cycle, from site selection to building materials and ecological impact.
Maryland LEED Certification Requirements
Maryland.gov has supplied state organizations with this case study and LEED criteria document to assist in planning and executing successful LEED accreditation and participation.  Eagle Mat encourages Maryland business owners, project managers, and all other interested parties to download this document to better review specific LEED requirements and processes.
LEEDing the Way with Eco-Friendly Commercial Products
Instrumental in LEED accreditation is the proactive installation of environmentally friendly technologies that add synergy to building performance, reduce energy consumption, and create an overall healthy environment for building occupants.
Eagle Mat proudly offers eco-friendly floor mats that may help your project earn LEED credits and incentives.  These products are made primarily of recycled content, reducing environmental impact without sacrificing performance.  These Green mats are highly effective in containing debris and bacteria, a subtle benefit that adds synergy to a building's day-to-day operation by increasing air quality.
Contact Eagle Mat for More on LEED Qualifying Products
Have questions about products that qualify for LEED credits?  Eagle Mat proudly represents over 30 years of experience in commercial matting and facility management products.  Contact Eagle Mat to speak with a member of our seasoned sales team, and let us help you find the eco-friendly products that are right for you.
Local Businesses:  Eagle Mat offers floor mat rental and laundering services that utilize environmentally friendly methods of cleaning your commercial matting products.  Are service area includes the Maryland, Washington D.C., and Northern Virginia areas.  Please visit our Services Page for more information.
(i) http://www.usgbc.org/DisplayPage.aspx?CMSPageID=1988
(ii) http://www.google.com/url?sa=t&source=web&cd=1&ved=0CGYQFjAA&url=http%3A%2F%2Fenergy.maryland.gov%2Fincentives%2Fschools%2Fresources%2Fpresentations%2Fworkshop4%2FEarley.pdf&rct=j&q=leed%20certification%20maryland&ei=PJp5TszQFJShtwfb2qEK&usg=AFQjCNEW8LhI_jquSN5I3j1rpa4u8JKc2A&sig2=_jB5qKgK0i2bWtx2jV_xkQ&cad=rja