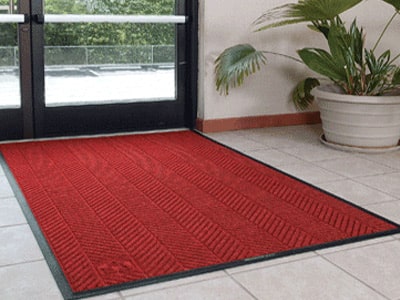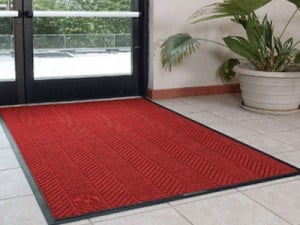 Schools need mats just like any other business or commercial space and for the same reasons:
Mats trap dirt and water preventing it from being tracked everywhere.
It's easier and cheaper to clean a mat or two than thousands of square feet of dirty floors.
Mats make the flooring safer for students and employees by preventing slips, trips, and falls.
Mats look good and add a classy or even a subtle marketing touch to any entrance.
So, if you're going to get mats, why not get logo mats. We have 14 different kinds of logo mats, and the set-up and proofing of your design is free.
We can print any kind of design or colors on your logo mats. You can have artwork, lettering, or a slogan, for example. Mats don't have to be boring. They can have eye-catching designs or clever wording—like the name of your famous football team.
If the graphics are the number one concern, then our Graphic Impressions Logo Mat is the way to go with state-of-the-art graphic technology.
If you're tired of the halls being messy with snow and ice, then the Waterhog Logo Mats are what you want. They have water dam edges to trap the water, but still, have a razor-cut inlay process for a beautiful printed design.
These mats have an enormous array of colors to choose from. They can be used both indoor and outdoor and are a breeze to clean. Simply hose them off and let them dry thoroughly before putting them back into service.
Because it's important to let them dry thoroughly before using them again, we often recommend having more than one set of mats. With more than one set, some mats can be used while others are drying out after being washed. In that way, you always have clean mats ready to use.
So, if you're going to get mats for your school, consider something beautiful and trendy, and try some logo mats for a change.
Do you have other questions? It's easy to contact us, and we're happy to help you. You can always call us at (877) 333-1018 or email us at sales@eaglemat.com for more information or if you aren't sure what you need.