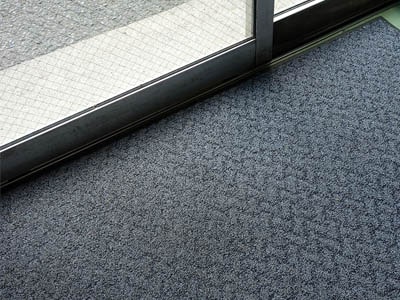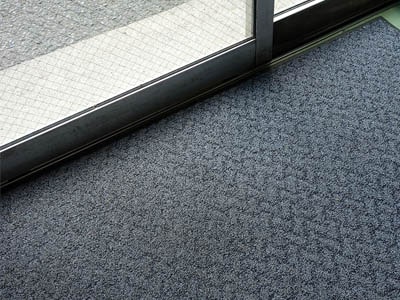 Commercial doormats are the first line of defense against the intruders known to turn a good facility bad. Rainwater, dirt, microbes, and other debris can penetrate the entryway every time a visitor is greeted by an open door. Commercial doormats are designed to stop these elements from entering, preventing the formation of puddles, mold, and mildew. With the right commercial doormats, a facility can welcome guests without sacrificing safety or hygiene. Read more about our most popular commercial doormats, and speak with an Eagle Mat representative for complimentary product consultation, sample requests, and more at 1-877-333-1018.
Commercial Doormats for Exteriors
The exterior of the facility is where most moisture and debris is formed. Bad weather, new landscaping, and litter are just a few of the most common instances of debris accumulation just waiting to penetrate your facility. Commercial doormats play a big role in controlling this debris and ultimately reducing the percentage that enters the building. In minimizing the inflow of moisture and debris, exterior commercial doormats deliver added value by extending the life of internal mats and floor surfaces.
Recessed Doormats for Vestibules
When we think of vestibules, it's easy to focus solely on the access and temperature control they provide. Yet vestibules can provide significant moisture and debris control as well. Especially for facilities in the northeast, Midwest, and other areas plagued by seasonal storms, vestibules provide an area where incoming foot traffic is cleansed of rainwater, mud, dirt, snow, and even sidewalk salt. As such, commercial doormats are vital. Recessed commercial doormats—like the Pedimat®, Peditred®, or Pedigrid®—are particularly effective.
Commercial Doormats for Interiors
Ultimately, shoes and other footwear should be cleaned of a majority of liquid and other debris by the time visitors reach the interior of the facility. Nevertheless, commercial doormats are important additions to any lobby, reception area, or interior. Whether branding with eye-catching logo mats or earning LEED credits with a Waterhog ECO runner mat, interior commercial doormats are a necessary component of facility safety and cleanliness.
Shop Commercial Doormats on Eaglemat.com—Free Shipping & 100% Price Match Guarantee!
Shop commercial doormats on Eaglemat.com to receive Free Shipping and an industry-leading 100% Price Match Guarantee. For product specifications and order assistance, readers are invited to contact customer services at 1-877-333-1018.