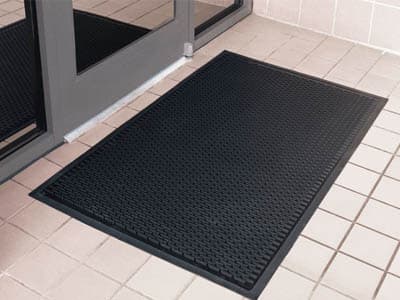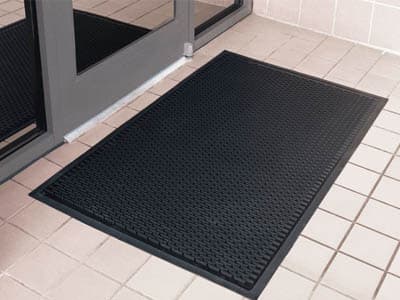 Rubber scraper mats are among the most effective products for controlling dirt and moisture accumulation. For most small to medium sized businesses, these indoor/outdoor rubber mats are the ideal combination of simplicity and function. Available in a wide array of sizes, scraper mats are best positioned just outside an entryway to aggressively stop dirt, grime, and moisture from penetrating the doorway and interior lobby. With spring just around the corner, now is the ideal time to evaluate your facility and assess areas in which additional slip and fall prevention products are needed.
6 Reasons to Invest in Scraper Mats This Spring
Spring is a rainy season. Don't let spring showers cause unexpected slips, falls, and injuries in your facility's entryways. Scraper mats have a unique surface texture that squeegees shoes dry, preventing excessive water accumulation and puddles.
Unique surface texture aggressively cleans shoes. In addition to controlling moisture accumulation, the uniquely pronged surface of the rubber scraper mat aggressively cleans dirt and other debris as guests enter your place of business.
Rubber backing stays firmly affixed to ground. Twisted and curled mats often make for more dangerous conditions than uncovered floors. Scraper mats have a rubber backing to prevent this issue, staying flush against the walking surface throughout the duration of the day.
Scraper mats are easy to maintain. Scraper mats are easily washed and cleaned with just a garden hose and push broom. This is best done every 1 to 3 weeks, or as otherwise needed based on your facility's visitor traffic.
Outdoor matting extends the life of interior mats. Already have interior carpet mats? An investment in rubber scraper mats will keep indoor matting and runners fresher, longer. Keep excessive dirt and moisture outside, and preserve the longevity of your interiors.
Eco-friendly options are available. Operating a eco-friendly or LEED certified facility? Shop Rubber Scraper ECO mats to effectively prevent accidents while also reducing your carbon footprint.
Contact Eagle Mat for Matting Consultation This Spring
Eagle Mat and Floor Products proudly represents more than 30 years of professional experience in the commercial matting and flooring industry. A family business, our customer service representatives are standing by to assist with product information, specifications, and recommendations. Contact us online, or call customer service directly at 1-877-333-1018.