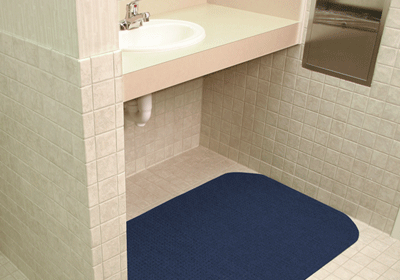 Choosing the perfect bathroom mat is essential. Aside from the occasional bathroom mat in an office or hotel washroom, they aren't as common in commercial settings as they are in residential areas. However, they should still be considered!
Bathrooms are probably the most dangerous place in the house, with over 230,000 people in the US having to go to the emergency room after an accident in the bathroom. Offices are no exception to injury risk either.
How do we choose a perfect bathroom mat?
Non-slip
The first thing you should consider is safety. That means you want a bathroom mat that doesn't move around and has great traction. If you step on it, you don't want it flying away like the proverbial banana peel. So, feel the underside. Lay the mat on the floor in the store, and check to be sure it won't move around when you want it staying in one place.
Absorbent
Make sure your mat is designed to absorb water. You want water to stay on and in the mat and not spill over onto the floor, which will make the floor slippery.
Décor
Lots of people want mats that match the floor color or the walls. And that's fine. But you can also use your mats for a contrasting splash of color.
Bastian Weitzel, principal designer at Mon Dieu Interior Design, said, "if a bathroom design is modern in style and materials, then a colorful mat could change the whole look and feel of the room….The mat should match any hanging artwork and also match the colors of other accessories like towels or a scented votive candle. If a bathroom is a bit more dated, a larger bath mat (preferably in a neutral color) along with a matching shower curtain and towels can hide quite a few dated tiles and wall choices."
Structure
Carefully consider material and structure. Memory foam mats feel wonderful under your feet, but if you have pets, cats and dogs can and will shred them up with their claws and nails.
Similarly, any mats that are Berber or have loops are fair game for pets. Recently Costco started carrying some mats will little tufts instead of loops that work great.
Whatever you choose, make sure the mats are washable in a washing machine. Bathroom mats get dirty. But never put them in a dryer. Just hang them or lay flat to dry. And you could consider putting commercial bathroom mats in your home.
Commercial mats always perform better than those sold in big-box stores for home use. Some commercial bathroom mats even have some anti-microbial technology built into them.
Do you have other questions? It's easy to contact us, and we're happy to help you. You can always call us at (877) 333-1018 or email us at sales@eaglemat.com for more information or if you aren't sure what you need.