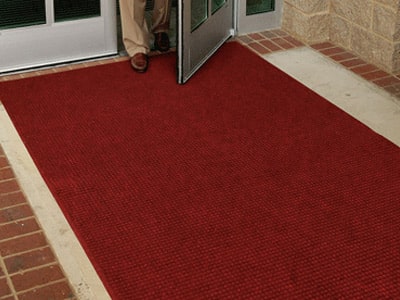 The hallways in your office, store, or other facility take a beating every day. Constant foot traffic not only can damage the underlying flooring, but it leaves behind dirt, moisture, and other contaminants that make the air less healthy for employees and visitors. That is why so many businesses make the smart decision to put rug runners in their heavily trafficked hallways. At Eagle Mat, we have a wide range of rug runners and rolled goods to suit any need. They are available in a variety of colors, textures, and sizes to help facility managers and property owners achieve health and safety goals.
Here are four reasons why your company should consider investing in hallway rug runners:
Dirt retention. Whether Berber or olefin carpet, hallway runners are constructed of materials specifically designed to retain dirt. This keeps debris and potentially harmful microbes from circulating throughout your facility.
Moisture control. Hallway runners also do a great job controlling excess water and moisture tracked in from outside or dripping from coats and umbrellas.
Floor preservation. In addition to controlling dirt and moisture, hallway rug runners also can extend the life of your hallway floors and protect them from damage caused by walking aids, supply carts, or falling objects. Hardwood, terrazzo, and ceramic tile are just three examples of expensive (and delicate) flooring surfaces that hallway rug runners can help to protect.
IAQ improvement. From employee health to facility efficiency, maintaining healthy indoor air quality (IAQ) is of critical importance. Rug runners can reduce airborne contaminants, allergens, and other particles by trapping dirt and debris on the ground
At Eagle Mat and Floor Products, we offer an extensive collection of runner mats that are perfect for large lobbies and long corridors. These mats may also be used in commercial locations like loading docks, greenhouses, and food preparation areas. Rubber matting is particularly effective when used along the aisles in kitchens and bars.
If you would like to learn more about our runner mats, please contact us today at 1-877-333-1018 to speak with a member of our knowledgeable sales team.