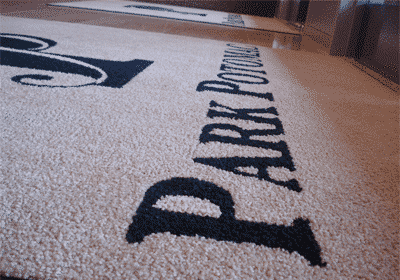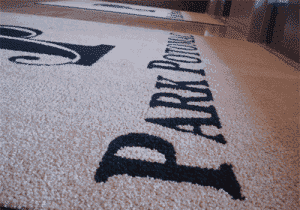 Logo mats are a valuable addition to any place of business.  Entrance mats are needed to keep entryways clean, safe, and professional in appearance.  Choosing to emboss your facility's entrance mats with a customized logo or company slogan is a proactive means of forwarding a message to visitors as they enter your place of business.  In this way, logo mats are a cost effective way to accomplish two very important tasks:  Improving facility safety and augmenting current marketing or branding campaigns.  Designing a logo mat is easy, however it requires careful consideration of the basic principles of design.  With just a bit of planning, your business will quickly design beautiful logo mats that are crisp, coherent, and effective in communicating with facility guests.
Logo Mat Design Tips
1. Cut the Clutter:  In general, the simpler the design the better.  Simplicity is key for at least two reasons.  First, simple designs are sharper and more easily read.  Second, it is important to remember that the design is being placed on a floor mat.  Guests will be passing over the mat and generally will have only a few seconds to take notice of the design, slogan, or logo.  Choosing a simple logo or graphic and a color combination that "pops" (see #4 below) is instrumental in creating a mat that will effectively communicate your company's message.
Important Note:  Complex designs are okay!  If your company has a 3-dimensional, multi-shaded, or otherwise complex logo, simply choose a carpet logo mat instead of a vinyl or rubber mat.  Mats like the Graphic Impressions Logo Mat use digital printing techniques that enable special effects like shading, 3-D rendering, and more.  Digitally printed logo mats also make it possible to implement a nearly limitless combination of colors, ensuring your logo will be as vivid and eye-catching as possible.
2. Choose the Right Orientation:  When ordering a logo mat, you must specify whether the design will have a landscape (horizontal) or portrait (vertical) orientation.  To determine the orientation of your logo, first consider how the mat will be placed in your facility.  Choose the landscape orientation if the mat will be placed across an entryway in a horizontal fashion, as this will display the logo and slogan in an upright and coherent manner.  On the other hand, choose a portrait orientation if the mat is to extend inward from an entryway in a vertical fashion.  This will likewise ensure the logo / slogan will be displayed in an upright and coherent manner.
3. Look to Current Marketing Materials for Logo Inspiration:  Your custom logo mat design does not have to be limited to a single slogan or outdated company logo.  Business cards, company websites, and other marketing materials can provide inspiration for your new logo mats.
4. Choose Contrasting Colors:  Generally speaking, all colors should match the current color scheme of your business.  Matching logo mats with the color scheme of your current logo, employee uniforms, or other facility décor will add a level of consistency across these elements and help guests more readily associate the logo on your mat with your business.  Additionally, it is important to choose contrasting colors that will help your logo "pop" from the surface of the mat.  Consider choosing a light colored background if your logo or graphic design contains darker colors.  Alternatively, choose a dark background if your logo or design features a light color scheme.
Contact Eagle Mat for Logo Mat Consultation
Need additional assistance with creating your custom logo floor mats?  Contact the experts at Eagle Mat for matting recommendations and more!  Representatives are available to discuss floor mat specifications, offer design recommendations, and help with order processing.  Customer Service is available toll free at 1-877-333-1018.