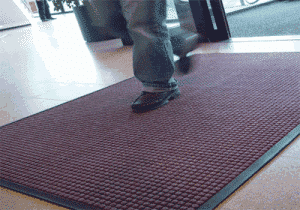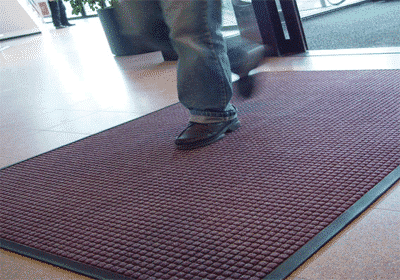 Waterhog mats are a well-known industry leader and a popular choice among commercial facilities of most industries.  But what makes these floor mats so effective?  Our editorial team has assembled this introduction to Waterhog matting products to provide an inside look at one of the industry's most well known commercial floor mats.  For specific product information and application suggestions, please see the section below titled Editor's Pick:  Top Waterhog Products.  Eagle Mat service representatives are also available to assist in product selection and consultation at 877-333-1018.
Reason #1:  How they're made
Waterhog mats are made with a special type of thermoplastic polymer called polypropylene.  Polypropylene is an incredibly resilient material that is highly effective in cleaning and resilient to liquid spills.  It is also weatherproof, making Waterhog mats a functional choice for both indoor and outdoor applications.  For more information, readers may visit our article titled An Introduction to Polypropylene.
Reason #2:  How they look
Waterhog mats are available in a variety of surface textures that are superior in cleaning ability compared to more traditional entrance mats.  Perhaps the most well-known of these textures is the "raised nub" pattern.  As the name suggests, this surface pattern consists of horizontal rows of raised, crush-resistant nubs that aggressively scrub at shoes as they pass over the surface.  These nubs are spaced apart to allow dirt particles to drop down below the face of the mat, effectively trapping and controlling debris before it may enter the building.
A second popular surface texture for Waterhog floor mats is the herringbone design.  This design may be identified by rows of horizontal slats that line up from side-to-side.  Like the more traditional nub pattern, the herringbone pattern has an aggressive touch that cleans effectively and features enough negative space between each diagonal slat to allow dirt to fall beneath the mat's surface.
Reason #3:  Functional finishing touches
Arguably the best reason to choose a Waterhog product is for the added "functional finishing touches" the products have over simpler floor mats.  For example, most Waterhog mats feature Water Dam technology that borders the mat and enables the retention of up to 1.5 gallons of water.  Another core functional element includes a 100% Nitrile rubber backing for added slip resistance after application.  Most excitingly, the Waterhog ECO line has introduced a full collection of products that are 100% eco-friendly.  LEED project managers and other Earth-conscious businesses may turn to the Waterhog ECO line for a high quality sustainable product that also comes with LEED project credits.
Editor's Pick:  Top Waterhog Products
Our editorial staff has hand-selected the following Waterhog products according to overall functionality and value:
Contact Eagle Mat for Additional Information
Eagle Mat service representatives are available to assist in Waterhog product selection and consultation at 877-333-1018.  Our service team has the knowledge and expertise to help you find an ideal matting solution for your business, today.  With spring weather and rain on the horizon, now is the perfect opportunity to reevaluate your facility's safety matting products and make entrance system upgrades where appropriate.